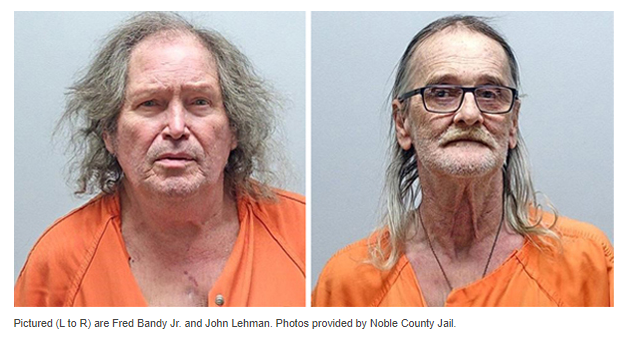 Editor's note: This story has been updated with additional information.
By Dan Spalding
News Now Warsaw
ALBI0N — Two men have been arrested by Indiana State Police in connection with a cold case murder of a 17-year-old girl from North Webster.
According to police who spoke Tuesday morning in a news conference in Noble County.
The suspects are Fred Bandy Jr. 67, of Goshen,  and John Wayne Lehman, 67, of Auburn,
Both men were taken into custody at their respective homes yesterday morning without incident.
Both are facing murder charges and are being held in the Noble County Jail, police said.
In 1975,  Laurel Jean Mitchell turned up missing after leaving work In North Webster on the night of Aug. 6 and was believed to be headed to Adventureland, an amusement park in North Webster.
Mitchell's body was found the next day in the Elkhart River in Noble County, about 15 miles from North Webster. 
An autopsy showed Mitchell had drowned and her body showed signs of sexual abuse.
At the news conference, ISP Captain Kevin Smith said the case "is a culmination of a decades-long investigation … and science finally gave us the answers we needed. Playing a significant role in charges being filed was the Indiana State Police Laboratory Division. We simply could not have solved this case without them."  
Smith also thanked "the news media who gave this case coverage, which kept the public informed over the years and led to many citizens coming forward with valuable information. The public's willingness to bring forward important information was key to solving this case and I thank them."
The ISP was assisted in this investigation by numerous detectives from both the Fort Wayne Post and Bremen Post, the Indiana State Police Laboratories in both Fort Wayne and Lowell, the Noble County Sheriff's Department, the Kosciusko County Sheriff Department, Noble County Prosecutor's Office, Kosciusko County Prosecutor's Office and the Noble County Coroner's Office.