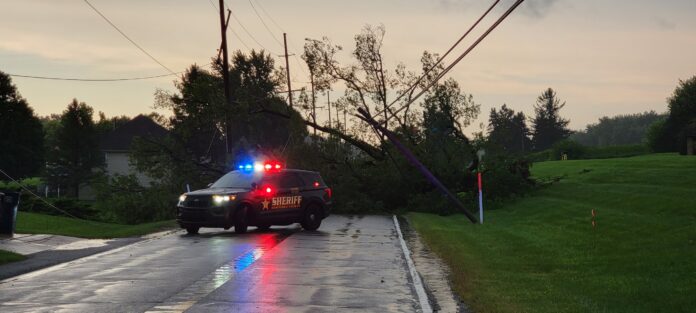 Severe thunderstorms on Wednesday afternoon and early Thursday morning caused widespread damage throughout Kosciusko County and surrounding areas.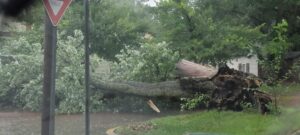 The storm on Wednesday pushed through the area between 12:30 and 2:00 PM, bringing wind damage to areas around Warsaw, Leesburg and Silver Lake, where numerous trees were toppled. The storm continued east into Whitley County where a trampoline was tossed into the median on US 30 near State Road 5 in Larwill, where it laid in a crumpled mess.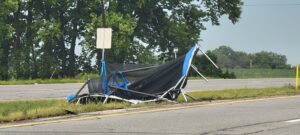 Trees and power lines were reported down throughout Columbia City, knocking out two traffic lights along US 30 at Lincolnway and the entrance to the shopping plaza. That caused occasional backups through Columbia City in both directions.
Another storm blew through early Thursday morning between 6:00 and 8:00 AM across areas of Fulton and Kosciusko County, knocking down more trees and power lines. State Road 25 was impacted in several places after trees blocked the road just west of Palestine and coming into Warsaw.
A large tree limb fell onto a pick-up truck at a home in Palestine, crushing the cab. No one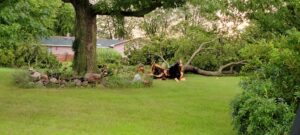 was inside of the truck at the time. Tree limbs were scattered across Warsaw and Winona Lake. One area hard hit was neighborhoods around Country Club Road, Country Club Drive and Shady Lane where tree limbs and branches were blown about, also putting power lines across the road making the area inaccessible during the morning.
Power outages were scattered throughout the area according to Kosciusko REMC, with nearly 3,000 customers being affected during both storms. NIPSCO at one time reported 35,000 customers without power across their service area in northern Indiana on Wednesday.
According to the Storm Prediction Center in Norman, Oklahoma, over 600 reports of wind damage were seen in multiple states between Wednesday and Thursday.