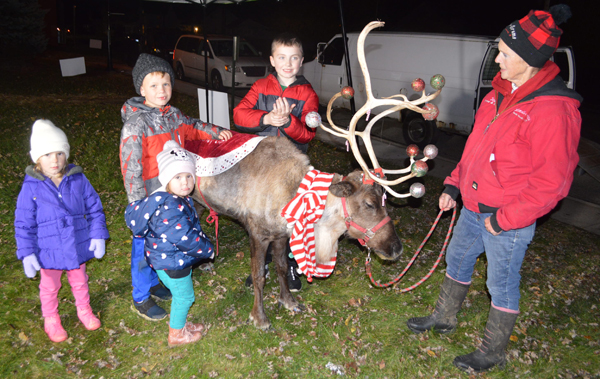 NORTH WEBSTER – Drawing favorable comparisons to Hallmark movies, the North Webster-Tippecanoe Township Chamber of Commerce Annual Tree Lighting & Festivities drew a large portion of the community to the downtown Saturday evening.
There was free hot chocolate, popcorn, hot dogs and cookies. Carolers performed on the Pilcher's lawn, including the North Webster Elementary School Choir. Santa and Mrs. Claus made an appearance at KiZa Designs, while a reindeer found his way to Tangibles for photographs.
Candy Cane the Reindeer was sponsored by Tangibles Resale, Maverick Promotions, Michael Kissinger Professional Surveyor, NAPA Auto Parts, Socks Marina, Owen Family Funeral Home and Todd Realty Group. The line for photos with Candy Cane was long, but quick moving.
At about 5:45 p.m., a parade of side by sides – UTVs – decorated for Christmas paraded up and down Main Street after gathering at Jill and Jennifer's Salon of Styles, 225 N. Main St.
"We started this last year with everything being virtual. We thought we'd do a side by side parade and decorate for Christmas and do a food drive for the North Webster Food Pantry. We ended up with three truckloads of food and $1,800," said co-organizer Jennifer Crosley. "And, then we did another parade for the tree lighting, so this year we thought we'd just put it all together."
Lisa Strombeck said the side by sides were the "new craze." Last year, she said they had over 30 participants, maybe 32, "and I'm thinking we topped that this year already."
Crosley said they also had the Jeeps this year.
"We invited the Jeeps in," Strombeck said. "We asked everyone to bring nonperishables in for the food pantry."
Crosley said they're going to run the food drive for two more weeks. Anyone who wants to donate can drop nonperishable items off at Jill & Jennifer's Salon.
"We'd like to collect more than we did last year, but anything is good," Crosley said.
"Any amount is good. Anything helps," Strombeck agreed.
Crosley said they're going to do another parade and food drive in the spring or summer because kids will be out for the summer and the food pantry probably will need more food.
In 2020, the parade went "everywhere," Strombeck said. This year, the parade was kept in town because people are dropping off food items instead of requesting donations be picked up.
"It's what we do for our little community that we love so much," she said.
After the parade, everyone ended up at Pilcher's lawn for the tree-lighting ceremony.
When the North Webster Elementary Choir was finished singing at 6:15 p.m., the community counted down to the lighting of the Christmas tree. Captain Bob then sang another song he wrote about Merry Christmas from the Dixie Boat.