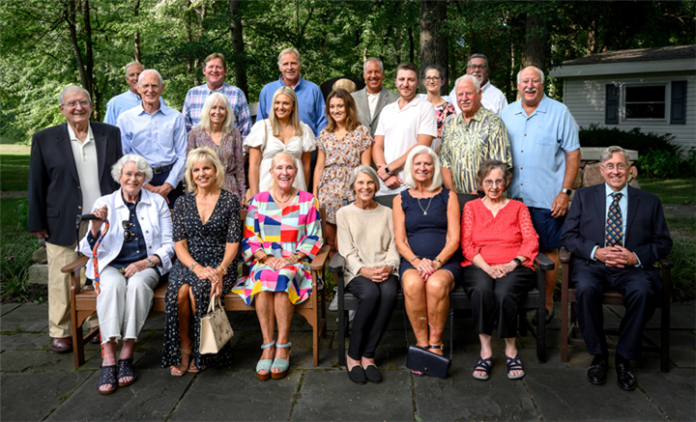 SYRACUSE – The Wawasee Area Conservancy Foundation (WACF)  announced the latest Founders of the Eli Lilly Lifetime Founders Society.
Founders are recognized with this honor for significant contributions of $100,000 or more made over the course of their lifetimes. They receive a medallion and a plaque with their name is added to the Eli Lilly Lifetime Founders Society wall located at the WACF Levinson-LaBrosse Lakes and Wetland Education Center.
New Founders were recognized during a celebratory dinner on Aug. 26 and included: Doug and Carolyn Anderson, Ron and Tami Baumgartner, Tom and Nancy Cottrell, William A. Reno Freihofer; Joe and Maria Hinrichs and Andrew, Sarah and Anna Hinrichs; Jim and Pat Marcuccilli, Tom and Joan Marcuccilli, Joan Buletty Slocum and Tom and Nancy Yoder.
In 1991, the Wawasee Area Conservancy Foundation, a 501(c)(3) non-profit organization, was created to protect, preserve and enhance the Wawasee Area Watershed for present and future generations.
Since its inception, WACF has focused on land acquisition, land management and education. It has protected nearly 1,000 acres of property within the watershed and nearly 13 miles of shoreline. On its properties, WACF has reconstructed wetlands, designed and implemented sediment control measures and developed activities aimed at limiting erosion and improving water quality in the Wawasee Area Watershed, thanks to the support of many generous partners in this work.
For more information about WACF, contact Shannon McNett-Silcox at 260-760-9153 or ShannonMcNettSilcox@gmail.com or visit WACF.com.