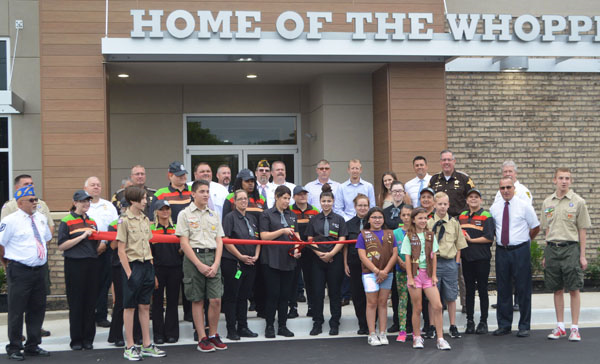 Approximately 72 days after beginning construction, Burker King, 2920 Frontage Road, Warsaw, opened its newly built restaurant Wednesday.
According to a news release from Quality Dining Inc., Burger King was officially reopened to the public as of 11 a.m. Wednesday.
Before it was opened to the public, there was a grand reopening ceremony with Veterans of Foreign Wars Post 1126 Honor Guard members raising the flag and the national anthem performed by Warsaw Community High School band members.
During the ceremony, Quality Dining presented a $500 donation to the VFW.
Dan Fitzpatrick, chairman and CEO of Quality Dining Inc., which owns and operates Warsaw's Burger King and other Burger Kings and Chilis in Indiana, Michigan and Florida, said he believes Quality Dining built the first restaurant at the location in 1986.
"That might not seem a long time ago, but that means our restaurant is old bones," Fitzpatrick said. "We've advanced in having new technology. The older building was hard to renovate to implement all the new technology, whether that's double drive-through or how we offer our drive-through service, with a bypass lane and so forth."
Fitzpatrick said the restaurant deserved to be refreshed and sometimes an older building just can't be rehabilitated. It made more sense to reposition and start new.
New changes to the new restaurant include a double drive-through, which means Burger King can process two orders at the same time, Fitzpatrick said. Drive-through, regardless of the COVID-19 pandemic, has become a major part of Burger King's business.
"We have much more capacity. We're going to be faster. It's going to be much easier for our guests," Fitzpatrick said.
He also said there are digital menu boards in the new Burger King restaurant that will allow them to be "much more agile" in marketing, presenting and messaging to guests.
There's new technology in the kitchen with new point-of-sale devices, Fitzpatrick said.
The structure is all new, Fitzpatrick said.
When asked what he hopes the benefits of the new restaurant will be, Fitzpatrick said the renovations will definitely help the business and said, "We're citizens, we're corporate citizens of this community, right? Warsaw is such a great community."
He said Warsaw has transformed over the years and "we think every community deserves our very best and we accomplish that by what we did here. I guarantee you we're going to be a bigger contributor in real estate taxes and property taxes for sure. And that helps this community. Real estate taxes support schools, they support fire, the library, etc., street, roads, etc. When companies invest in a community like this, it adds to the tax base and it adds to the betterment of the community."
Fitzpatrick said Burger King is also providing jobs. He didn't know where the restaurant will end up, but guessed there will be 50 jobs provided at the restaurant.