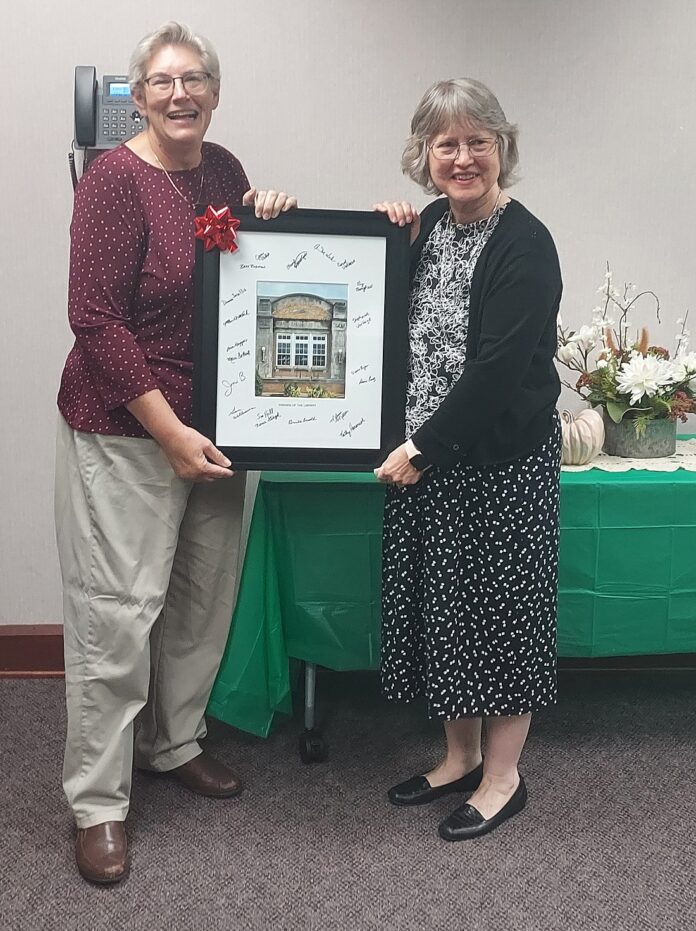 Ann Zydek, Warsaw Community Public Library director, will retire Friday after 42 years.
She was able to celebrate her retirement with an open house Tuesday at the library, where people were able to come in and talk with Zydek and have cake. The Friends of the Library presented a signed frame picture of the library to Zydek at the beginning of the open house.
Zydek has been director at the library for about 39 years and was children's librarian at the library before that.
She got into the field because she loves reading books. Her dad was a college professor and had books all around and he would read to Zydek when a child.
"So for me, it's just loving reading," she said. And she would go every week as a child to the public library.
She earned her graduate degree from Western Michigan University. Before then, she had a chance to do her first year in Toledo, Ohio, at a private school, and finished up at Madonna College (now University) in Michigan.
She then started working at her three school libraries in Badaxe, Mich.
When Zydek started at the Warsaw library, Cynthia Wiggins was the library director. When the director position became open, the library board president asked Zydek why she didn't apply for the position, so she did, Zydek said.
When asked what made her decide to retire, Zydek said when the COVID-19 pandemic hit, there was so much going on at the library. After that, "it was like, 'I think it's time to move on.'"
Some of the things that have changed since Zydek started at the library includes things going digital.
"We did all the barcoding. Every book had to get a digital record on them. And it was worth it because people discovered more of our books," she said.
After Zydek retires, she said her plans include resting and "recreating."
Some of Zydek's fondest memories includes working on the library expansion project. Work started in 1985 and took several years to finish.
Robin Fosnaugh, public relations manager, said she and Zydek have worked together on different projects throughout the years and some of them have "been pretty crazy." One time, walls at the library were being painted and books had to be moved to the carpet "and they did it all at one time." They were at the library until 4 a.m. moving books.
Fosnaugh said she wishes Zydek the best in retirement.
"She deserves it," Fosnaugh said.
Library Board member Barbara Beck said she's always enjoyed how enthusiastic Zydek has been and called Zydek dedicated.
Library Board President Chris Merrill said working at the library was his first job out of the military and working with Zydek was great as she's understanding and easy to work with.
"Ann has been an amazing librarian. She's an amazing director. She is the heart and soul of this place. I mean, it's amazing anyone's stayed anywhere as long as she has. This place is as much her as anyone else and I know it's going to be a sad goodbye, but also exciting. Congratulations, Ann. You've done it better than any of us could have. And we're hoping we can carry on that legacy and keep that vision and heart going because she loved us. That's what we're going to try to do," Merrill said.
Zydek said retiring is bitter sweet. It's time, but she's going to miss the people at the library.
Zydek expects the library to continue meeting the needs of the community. For herself, she expects to enjoy retirement gracef