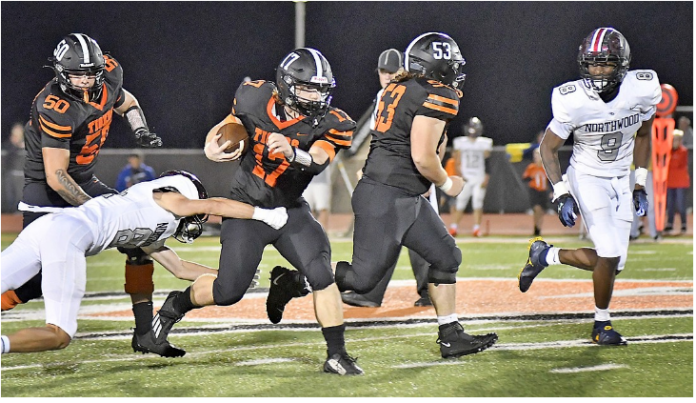 By Connor McCann
Times-Union
WARSAW — A week after coming away with a win in a sloppy game against Concord, the Warsaw football team looked incredibly sharp on Friday night, trouncing NorthWood 45-21 at home.
The Tigers remain undefeated and are now 5-0 for the first time since 2001.
Warsaw also remains unbeaten in the Northern Lakes Conference at 3-0. With the win, the Tigers have now won 16 of the last 17 games played at Fisher Field.
The story of the game for the Tigers was fullback Reed Zollinger. It was a night to remember for the senior, who rushed for 313 yards on 45 carries and four touchdowns.
The 45 carries tied a school record, while the 313 yards were just nine short of Tristan McClone's 322 against Northridge in 2012 for the most ever by a Warsaw player in a game.
The Tigers were the first team on the board in the first quarter on a four-yard run by Zollinger. The visitors were quick to answer, scoring the game's next 14 points on an Owen Roeder run and an interception return for a touchdown.
The two sides would trade scores in the second quarter before a 55-yard touchdown run by Lucas Ransbottom with seven seconds left in the first half put the Tigers on top for good. Ransbottom also added a touchdown in the second half as well.
The defense, which has been so crucial to Warsaw's success all season long, put together another lights-out performance. The Tigers forced the Panthers to turn the ball over five times in the game, scoring off of four of those takeaways to really put the game out of reach.
While it was mostly the night of Zollinger and the defense, Warsaw had plenty of other contributors to the win as well. Quarterback Quinton Brock rushed for 25 yards while Robbie Hoffert added 14.
After avenging last season's loss to NorthWood on Friday, the Tigers will have another chance next week at getting one back against a team that got the best of them last year. Warsaw travels to Mishawaka on Friday.