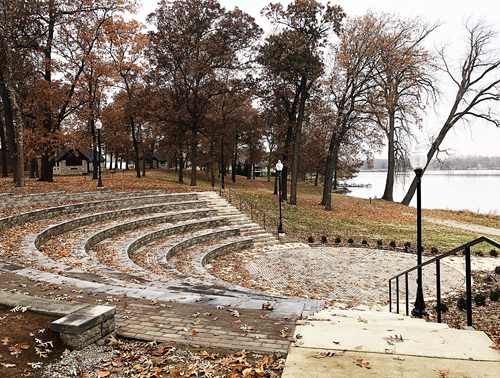 Fees, trees and ice skating rinks were all part of the discussion at Warsaw Parks and Recreation Board's meeting Tuesday.
Board members were presented with a packet of information comparing Warsaw Parks facility rental fees to other parks' and campgrounds' fees.
"We tried to do some comparables to see where we're at. As we look through these, I would just ask you to take these and review them. Ask any questions over the next month or whatever you need to ask, and then come to (the board meeting in) November with some suggestions on any rate increases or fees that you see that might be too low or too high," Superintendent Larry Plummer said.
The campground comparison shows the nightly fee at Pike Lake in Warsaw is $32, with a weekly fee of $192; a monthly fee of $490; and a seasonal fee of $1,900. It includes electric, water and sewer. There are playgrounds, beach, trash and WiFi available.
Pla-More in Bremen has a nightly fee of $40, weekly fee of $240 and a seasonal fee of $1,800, but there are additional costs for electric and sewer and water is not included.
Other campgrounds compared include Jellystone in Pierceton, which has a seasonal fee of $2,700; Forest Ridge in Larwill, with a seasonal fee of $1,300 but doesn't include water, sewer and WiFi; and Maple Ridge in Lakeville with a seasonal fee of $1,995, with no water and extra costs for electric and sewer.
The rental fee for the East Shelter at Central Park is $37.45, the same as Winona Lake's outdoor picnic shelter, but more than Shelter B in Nappanee at $25 and less than the $110 fee for the Fisherman's Camp Shelter in Ox Bow County Park.
The Lucerne Park amphitheater rents for $187.25, while the Central Park plaza rents for $175. They're compared to the gazebo at Oakwood Resort in Syracuse and the Riverwalk Run in Mishawaka, both over $200 to rent.
Center Lake Pavilion can be rented for $428 with tax, with a refundable damage deposit of $300. That's compared to the Beach House in Epworth Forest in North Webster at $375 for four hours and $425 for eight hours; Community Center in Winona Lake, $200 plus a refundable $200 damage deposit; and the gymnasium at Lakeside Park in Syracuse at $400 for a town resident and $500 for a nonresident with a refundable $500 damage deposit.
The packet of information also compares rental fees for the Firemen's Building at Pike Lake, Nye Youth Cabin and miscellaneous rentals. Warsaw Parks' rentals are generally lower than the other locations, according to the information provided.
"A lot of these were redone in 2017, so it's been three years, almost four years, since we've had increases on any of these and set these rates. So I would ask that you strongly take a good look at these and see if there's any place where you feel there's a deficiency in the charges," Plummer said.
The one lease the Parks has is with the Kosciusko County Senior Services. That lease hasn't been raised for about a decade, so Plummer said they might want to take a look at possibly raising that.
Recreation Director Sheila Wieringa also presented some information on current program fees.
The fees will be discussed at the November meeting so they can be set for 2021.
Mayor Joe Thallemer later commented, "I wanted to kind of echo what Larry had talked about with our user fees. We provide a lot of great things for the community. We certainly don't want to … make it so it's not affordable. That's not the idea here. I think what we do want to look at is just making sure we don't go backwards by not at least keeping up with cost-of-living and inflationary things."
He said the board needs to look at if the fees are reasonable in this community.
"But our comprehensive financial plan asks that we look at all of our fees across all of our departments and at least update them and make sure they're keeping up with inflation," Thallemer said.
If something seems to be well below where it should be, a gentle increase over the next few years may make a lot of sense, he said.
On a different topic, Plummer reminded the board that a few meetings ago, the Parks received a grant from the Kosciusko County Community Foundation for the Parks Department's efforts to install the new artwork in the City Hall plaza and for the "great work" that Wieringa and her staff did with the virtual programs.
"We got a grant that we could use however we chose to use it. We chose to put trees in our parks," he said.
The grant provided for 30 trees to be planted: five at Ker, five at Richardson-Dubois, two at Kiwanis, six at Lucerne, two at Hire Park, three at McKinley Park, two at Krebs, two at Bixler and three at Central Park.
"I sent a thank you letter to the Foundation and they seemed really pleased that we used that for that purpose," Plummer said. "This is just something many generations down the line will get to benefit, like we do the mature trees that are there now."
He thanked the KCCF for the grant.
Additionally, he said he purchased 12 more trees for Hire Park. Several years ago, a tornado/wind storm went through there and took down all the willows. Now there's 14 maple trees along Hire Park.
"Overall, we put 42 trees in, in the last month," at the parks, he said. "We try to plant one for every one we take out."
One other thing Thallemer brought up to the Parks Board was the ice skating rink. The Board had been looking at possibly bringing an ice rink to Central Park. The K21 Health Foundation offered a $1 million grant to either Warsaw or Winona Lake to make that happen. Winona Lake came up with a plan and design first and secured a $1.5 million grant from K21 a couple months ago. Winona's proposal is to have an ice skating rink where there's now a green space across from The Boathouse Restaurant.
Thallemer said he sat down with Winona Lake Town Manager Craig Allebach and looked at the town's plan.
"I think it's a fantastic plan. I think it's in a great spot. I think everybody in this community will get use out of it. I was not disappointed because at the end of the day we got a skating rink in our community," Thallemer said. "I know we worked hard to try and make it happen. … Central Park is our park. We wanted to make sure if we put something in, it fit."
At the end of the day, no good spot was found for an ice rink. He thanked the Parks Board for their hard work and guidance.