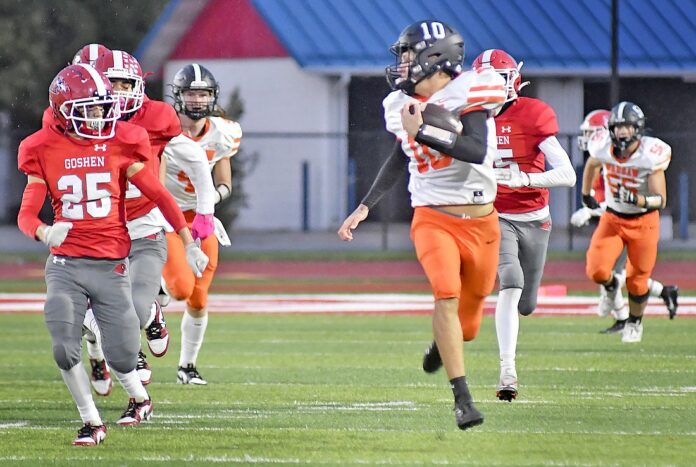 By Steve Krah
Correspondent
GOSHEN — Warsaw seized control early against short-handed Goshen on the way to a 42-7 Northern Lakes Conference football victory.
The Tigers (7-1, 5-1) led the RedHawks (1-7, 1-5) by a 35-0 count at halftime and there was a running clock in the second half.
Warsaw, ranked No. 12 in Class 6A this week by the Indiana Football Coaches Association, received the opening kickoff from Goshen and scored touchdowns on five straight possessions.
"I was pleased with our execution and — for the most part — how we defended Goshen," said Tigers coach Bart Curtis.
Senior fullback Reed Zollinger Reed Zollinger wound up with the football in the end zone three times. His 3-yard run capped an eight-play, 34-yard drive.
After the first of three first-half punts by the RedHawks, sophomore starting quarterback Quinton Brock went left and sprinted 85 yards for the Tigers' second TD.
Following another Goshen punt, Warsaw went 80 yards in 11 plays with Zollinger taking it the last 11.
Junior strong safety Tristan Wilson intercepted two passes Friday, bringing the team total to 13 for the season. The first pick of junior Elliot Frey plus a return to the Goshen 1 set up a sneak by senior Grady Nolin.
"Right now he's our back-up (quarterback)," said Curtis of Nolin. "We felt like it was important to get him some reps."
It took only three plays to score after the third RedHawk punt. This time Zollinger capped a 33-yard drive with a 29-yard TD run.
With the clocking running, Goshen's 15-play, 80-yard drive against Tiger reserves took up the entire third quarter.
Senior running back Drew Elliott carried it 11 times including the 6-yard TD and junior Aaron Mounsithiraj added the conversion kick to make it 35-7.
The final score of the night came on freshman Michael Schenk's 6-yard run with 1:24 to go.
Junior Mason Smythe added the extra point to all six Warsaw touchdowns.
The Tigers finished with 20 first downs (17 rushing).
In the first half, Warsaw amassed 202 yards on the ground and 31 through the air with 14 first downs.
Goshen — coached by Tom Wogomon — gained 44 ground yards and zero net yards passing with five first downs.
After losing at least one fumble in each of its first seven games — including five in Week 7 against Wawasee — Warsaw had just one fumble Friday and did not lose the ball.
Friday's win also marked the 16th straight for the Tigers against the RedHawks.
Northridge (7-1, 5-1) visits Warsaw and NorthWood goes to Goshen Friday, Oct. 13.
The three-way tie atop the NLC also features Mishawaka (6-2, 5-1) and the Cavemen play host to Wawasee in Week 9.
There will be no junior varsity game this week with Goshen having no JV team and Warsaw unable to find a replacement opponent.