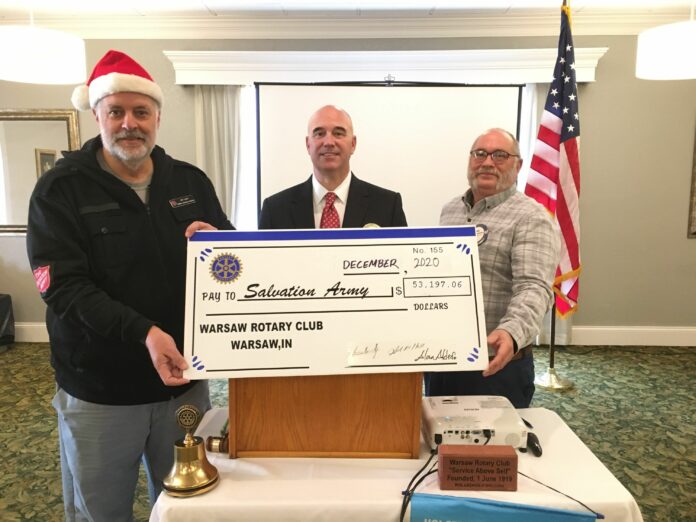 The Warsaw Rotary Club held its annual Warsaw Rotary Salvation Army Day on Friday, December 18th at their regular club meeting held at Wyndham Garden.
Members, local businesses and longtime supporters of this event collected their donations resulting in the highest total ever – $63,597.06 when collection closed on December 31st.  The second highest total was in 2010 with $53,874.96.
The event was started in 1965 by N. Bruce "Angels" Howe to honor Brigadier Brice Phillipson, retired Salvation Army Officer.  Phillipson and Howe were both members of the club.  Warsaw Rotary collected just a little under $1,000 that first year for "Brice's Day".  Over time the amounts grew and John R Hall became Co-Chairman with Howe.  The $20,000 mark was met in the late 1980's and eventually the fundraiser was renamed to Warsaw Rotary Salvation Army Day to honor Phillipson, Howe and Hall.
In 2011, it was estimated that Warsaw Rotary Club passed the $1 Million mark of monies raised over those 46 years. Warsaw Rotary has collected almost $400,000 since the 2011 ingathering.
"There are no words to express our thanks to the Warsaw Rotary Club for their support of The Salvation Army in Kosciusko County," noted Envoy Ken Locke, Corps Administrator and Co-Chairman along with Alan Alderfer.
"These monies always support us helping Others during the holidays and throughout the year."
The Warsaw Rotary Club has had a long time relationship with the organization since 1921 when The Salvation Army opened its work in Warsaw.  For more information go to www.warsawrotary.com.