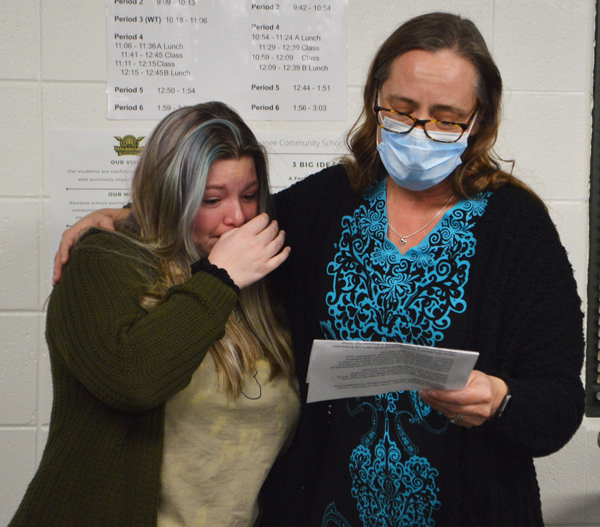 SYRACUSE – There were tears and hugs of joy Tuesday at Wawasee High School when senior Allyson Eppert was named a recipient of the Lilly Endowment Community Scholarship for Kosciusko County.
The scholarship provides full tuition, fees and an allocation for books and equipment for four years of full-time undergraduate study at any eligible Indiana university.
Eppert originally was selected as the alternate candidate and became an official recipient after Regan Brouwer, of Warsaw Community High School, declined the scholarship offer in order to accept an offer at Northwestern University in Illinois, according to a news release from the Kosciusko County Community Foundation.
Only two Lilly Scholars are named in Kosciusko County annually. The other Scholar for the 2021-22 school year is Ryan Brown, Whitko High School.
Eppert was unaware of being named a recipient of the scholarship until she walked into the room where school officials, KCCF representatives and media were waiting for her and Foundation CEO Stephanie Overbey gave her the news. The room then applauded her and her accomplishment.
Overbey told her the selection process for the Lilly Endowment Community Scholarship at the Foundation is blind, meaning the committee members who review the applications have no idea what the applicants' names are or see their photos. "So your application stood on its very own," she said.
The criteria evaluated by the reviewers includes academic excellence, community service, extracurricular involvement, work experience, references and essay responses.
Once the committee selects the finalists, the Community Foundation submits these applicants to Independent College of Indiana (ICI), the statewide administrator of the Lilly Endowment Community Scholarship Program, for the final selection of recipients.
"Your application was chosen due to your exceptional academic achievement, community involvement, character, leadership," Overbey said. "I know that you said upon graduation that you plan to attend Ball State University to study behavior and social science so that you can build a career as an addiction counselor or child psychologist. You can use this scholarship at Ball State or any college and university in Indiana, private, public, anywhere you want to go. Your tuition and academic fees will be taken care of."
Eppert is a straight-A honor student who finds time to take part in extracurricular activities while working part-time as a waitress and helping to care for her younger siblings. At Wawasee High School, she is part of the National Honor Society and colorguard. She has volunteered as a Sunday school teacher at North Webster Church of God and at a local breeder, caring for animals.
Overbey told Eppert what some of her references said about her.
One of them said, "Allyson is an amazing all-around person. She is extremely friendly and outgoing. She cares deeply for others and knows what it takes to succeed."
Another reference called Eppert "the most deserving of all the students I've written a recommendation for" in her 27 years of teaching.
After the presentation, Eppert said she was totally surprised.
"It means a lot. This opens up a lot of opportunities for me, for my future and where I'm going to go," she said.
Ball State was one of the schools she was looking at when she applied for the Lilly Scholarship. Eppert said she has seven other schools she's trying to visit in the next two months to determine where she wants to go.
"I'd like to study criminal psychology, just to learn more about how people's brains work and why people think like they do," she said.
Wawasee High School Principal Geoff Walmer said, "Allyson is a very deserving student of this award. I know that those who have worked closely with Allyson understand (the meaning) of this for her and that this opens up so many more doors than what she thought was possible. And knowing that she's such an amazing kid, the fact that she now gets to choose her destination, choose her next step as opposed to being pigeon-holed into maybe some options is amazing because she's the type of person that will choose the best decisions. So it's just awesome."
Dr. Stephen Troyer, Wawasee Community Schools superintendent, said he was thrilled for Eppert.
"Everybody that I talked to about her is absolutely thrilled, couldn't be a more deserving candidate for that," he said. "We're really excited for her. I just read about her in the paper a week and a half ago because she's our first Wawasee recipient of the Indiana College Core, which basically is she has her 30 credits of her freshman year completed in high school. So she's just doing some really awesome things and it's so exciting to see a student of her caliber win that."
Troyer said he was really proud of the things Wawasee High School has going on.
"We've had three of the last four recipients (of the Lilly Scholarship), which is super exciting," he said. "I know that the high school leadership team here is just so proud every time one of these comes up. It's really cool for our school, the climate and culture we're trying to build. We're thrilled for her."
The Lilly Endowment Community Scholars for 2020-21 were Wawasee students Samantha Kolberg and Nyla White.
Annually since 1998, Lilly Endowment Inc. has funded the Lilly Endowment Community Scholarships to help Hoosier students reach higher levels of education in the belief that education is indispensable to the personal, civic and economic well-being of Indiana communities and residents. Lilly Endowment Inc. is an Indianapolis based philanthropic foundation created in 1937 by members of the Lilly family through stock gifts of their pharmaceutical business, Eli Lilly and Company. Lilly Endowment Inc. supports community development, education, youth and religion.
The Lilly Endowment Community Scholarship program is administered by Independent Colleges of Indiana, which serves as the collective voice for the state's 29 private, nonprofit colleges and universities.