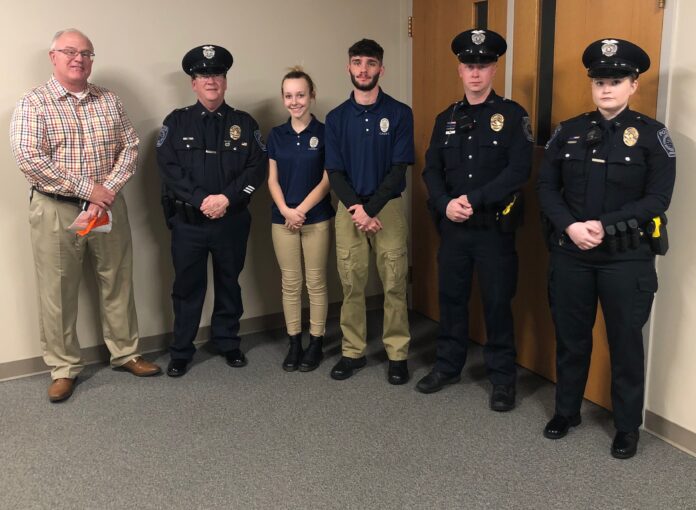 Tim Sammons, Chief of Pierceton Police Department, addressed the Warsaw Community School Board on Monday, September 21. The Pierceton Police recently launched a Police Cadet Program. The project started in June of 2019 and included multiple meetings with local school principals, students, and parents. The Pierceton Police Cadets are Juniors and Seniors from all four High Schools in the area, Whitko, Wawasee, Warsaw, and Tippy, and one homeschool student from North Manchester.
There are twelve students, male and female. Each Cadet was vetted carefully by filling out a seven-page application requiring a GPA of 2.8 or higher. Background checks were completed on the student and parents. Each Cadet passed an oral interview with the Pierceton Police Review Board and was approved by their building Principal. At the meeting, Chief Sammons explained, "This program is not for troubled youth. It is for the student who is interested in law enforcement and the different aspects associated with law enforcement."
Each month a different police-related topic is presented to the students. A few of the topics include C.S.I., traffic accident investigation, paramedic service, fire service, death investigation, community policing, F.B.I. Police K9, S.W.A.T., Bomb Squad. The topics are presented by law-enforcement professionals from the Warsaw City PD, Kosciusko County Sheriff's Office, Indiana State Police, and Federal agencies (F.B.I., A.T.F.).
Pierceton Police Officer Ryan Piper is the Police Advisor for the male cadets. Pierceton Police Officer Ashley Jones is the Police Advisor for the female cadets. The Cadets have a uniform to wear at the meetings and for their community service projects. Joining Chief Sammons were two Warsaw Community High School seniors: Police Cadet Leona Sellers and Police Cadet Brennan Cox.
Any WCHS Junior or Senior who is interested in the Police Cadet program can contact Mr. Akers or Chief Sammons for an application.