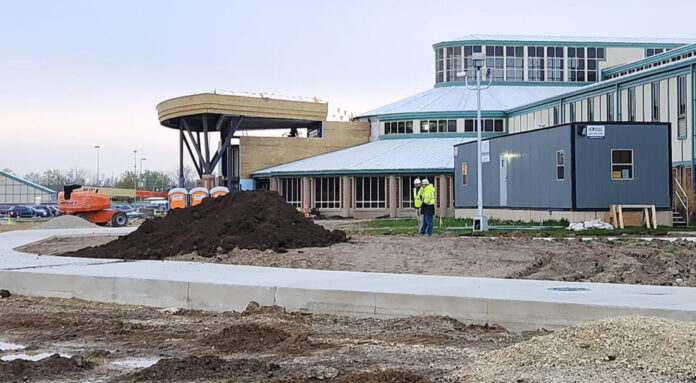 By Dan Spalding
News Now Warsaw
WARSAW — On-going renovations at Warsaw Community High School aimes to significantly improve security.
When the high school was constructed some 30 years ago, it was designed as an inviting, open campus with 54 exits.
But the era of mass school shootings like the Columbine massacre 23 years ago and the attack in Uvalde, Texas last year has heavily influenced how schools approach school access.
When construction is complete, there will only be three main entrances to the high school. Many of the current doors will only be used for emergency exits.
Superintendent Dr. David Hoffert talked about the issue following a presentation on school safety at Monday night's school board.
Checking doors is one of the main tasks of school resource officers as they continually look to make sure doors in the high school are properly shut and locked.
According to information released Monday by the school district, about 21 percent of the time spent by resources officers involves checking doors.
The school has 17 safety specialists in the school district who constantly are assessing safety issues.
"As they go around at our schools, that's the number one thing they're looking at. It's the simplest thing, but it's the quickest safety management that there is in access to the buildings," Hoffert said.
"It's why we've spent so much time and resources in all of our elementary, middle schools and now the high school building. A big chunk of our construction project is really taking a look at safety management."
Tracy Horrell, assistant superintendent of secondary education, highlighted some of the work Warsaw Community Schools (WCS) has accomplished in regard to school safety.
While the state of Indiana only requires one certified school safety specialist per school, WCS has gone above and beyond by having 17 safety specialists throughout the district.
This is because WCS understands that education and training are key factors to protecting against and responding to threats on school grounds, according to a news release provided by the school district, the news release said.
To be certified as a safety specialist, ongoing training is required. Basic training is the initial training required, then administrators have to attend advanced safety training each year to maintain their status. Training opportunities are offered in the fall and spring. This spring, on May 15th and 16th, nine WCS administrators are completing or renewing advanced training certifications.
One issue school officials continually battle is the desire of students who need to run out to their car to get something and choose to prop a door open.
Construction on the main entrance and two others for school buses and the career center will be complete late this summer, Hoffert said.
"Our messaging to our staff is — over and over again — you absolutely can't do that because that's one of the biggest safety issues," Hoffert said.