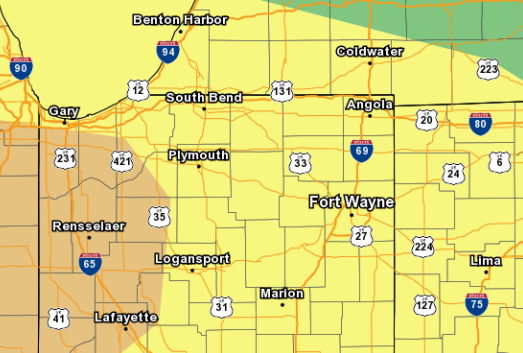 Things could get stormy over the weekend, especially on Saturday afternoon and evening.
Mark Frazier, forecaster with the National Weather Service office in North Webster says Saturday shows an *Enhanced/Level 3* risk for severe weather in areas west of US 31, while areas east are in a *Slight/Level 2* risk, as outlined by the Storm Prediction Center in Norman, Oklahoma. All hazards are possible, including damaging winds, large hail, flooding and tornadoes.
Frazier says a warm front will lift through the area Friday night, which could bring some heavy rains during the overnight hours. There is also a *Marginal/Level 1* risk for severe weather during the Friday evening hours with large hail being the primary threat.
The NWS is also watching for the chances of heavy rain Friday night into early Saturday morning, which could lead to the rise in area rivers and potentially cause from area flooding.
As of Friday's forecast from the SPC, the greatest threat of severe weather on Saturday extends across areas of north central Illinois, where a *Moderate/Level 4* risk is highlighted. But Frazier says the storms that develop across Illinois will have to be watched as they march eastward into Saturday afternoon and evening. This forecast could change throughout the day on Friday and into Saturday as new models are made and show any changes in storm track or atmospheric conditions.
After the storms pass through, Sunday turns into a wind event as gusts could reach as high as 40 to 50 miles per hour during the afternoon hours, but those conditions will start to subside Sunday evening into early Monday.
To get information or updates when severe weather looms, make sure your cell phone is set up for automatic updates, check the National Weather Service's website and Facebook page or tune in on a NOAA weather radio.
Updates will also be broadcast on News Now Warsaw, Classic Hits 107.3 WRSW and Willie 103.5 and will be posted on the station's Facebook pages.