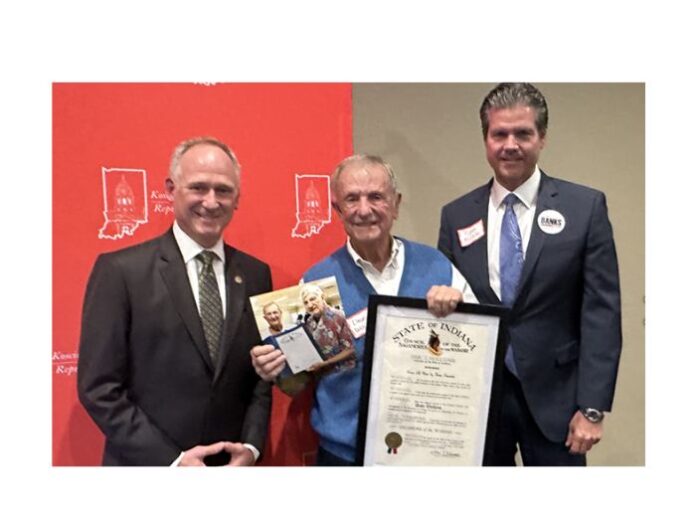 By David Slone
Times-Union
NORTH WEBSTER – Indiana Lt. Gov. Suzanne Crouch surprised Ernie Wiggins, former Warsaw councilman and mayor and Kosciusko County Councilman, with the Lieutenant Governor's Leadership Award Saturday night at the Kosciusko County Republican Party Lincoln Day Dinner.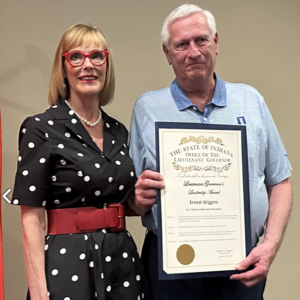 After that presentation, Indiana Sen. Ryan Mishler and Rep. Craig Snow surprised Kosciusko County Councilman and former state Rep. Dave Wolkins with a Sagamore of the Wabash, an honorary state award from Indiana's governor.
In presenting her award to Wiggins, Crouch said, "Tonight, it's my honor to recognize a man who is a businessman, a community leader and, really, the ultimate public servant as a city councilman, as mayor, county councilman."
She called him up to the front of The Owl's Nest where the dinner was held and gave him the award. It states, in part, "The lieutenant governor recognizes Hoosiers who have distinguished themselves by demonstrating outstanding community service, exemplary academic achievement or exceptional leadership in their communities. The state of Indiana values Hoosiers who are invested in Indiana's future. Ernest has been active in his community, including as a public servant, and has shown a devotion to his fellow Hoosiers through community leadership and volunteerism."
In presenting the Sagamore of the Wabash, before announcing the recipient was Wolkins, Snow said, "A number of months ago, last fall, I got a call from John Elliott. Many of you remember John. He was a great friend. I know he would be here if he could, but John kind of beat Ryan and I up for a while about nominating somebody for the Sagamore of the Wabash. And, tonight, we want to honor someone with that award.
"This man has served a lot of years in office. He's been a high school teacher for many years, served on the Winona Lake Town Council for many years, served as a state legislator for 32 years, and he's been my role model, my predecessor and I'm honored – along with Ryan – to award him with the Sagamore of the Wabash from our governor, Eric Holcomb. So, Dave Wolkins, will you please join us up here."
After handing the award to Wolkins, Snow said, "About four years ago, Dave actually gave this award to John at the Optimist Club. So I thought it was fitting that John asked Ryan and I to submit this for Dave. I really wish (John) was here. John knew about this, so we got the award announced in December. We got the signature from the governor. And I called John and he was so excited and he was going to try to get here."
After trying to find the right date to present the Sagamore to Wolkins, Snow said they finally were able to get it done.
"John, I know you're looking down on us and I know you're very proud of Dave, as we all are. Congratulations," Snow said.
Snow handed Wolkins a photo of when Wolkins had presented Elliott with the Sagamore.
Elliott, a longtime local banker and community activist, died Jan. 8, 2023.