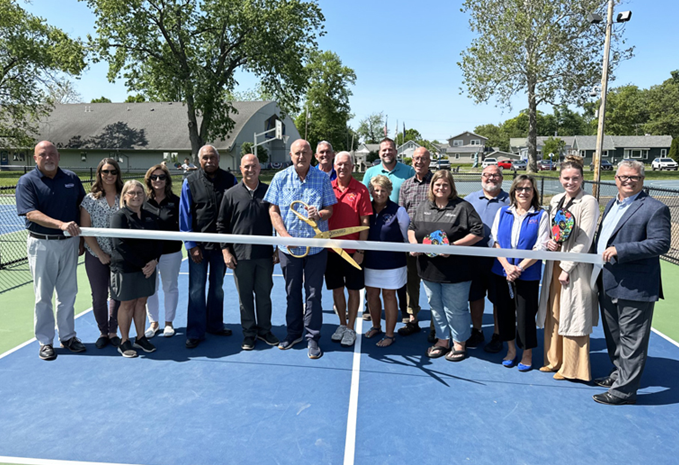 David Slone
Times-Union
WINONA LAKE – No matter how many pickleball courts are built, players are still asking for more.
Thursday afternoon, the Kosciusko Chamber of Commerce, K21 Health Foundation, The Thieme Family Foundation and the town of Winona Lake had a ribbon-cutting ceremony for the four new pickleball courts at the Winona Lake Limitless Park.
Before the ribbon was cut, Town Manager Craig Allebach briefly spoke and thanked those that made the courts possible.
"This has just been an awesome venture. It's taken us a lot longer than we expected to get here," he said. "… A lot of people made this possible, and I want to thank the late Mike Metzger, who really came to me, along with Rich Lane, and really wanted to see pickleball in Winona Lake."
As a result of a major contribution from the K21 Health Foundation, the pickleball courts became possible, he said.
"As we went through the process, we also ran across a couple and their foundation – Dave and Julie Thieme. They came to us and, coincidentally, they're also residents of Winona Lake – I think they became residents prior to coming to see me. A great pickleball instructor," Allebach said.
What Allebach said what was really neat about The Thieme Family Foundation was that it's faith-based and they really want to help communities.
Rich Haddad, K21 president and CEO, said, "The only thing I've heard is we're not keeping up with the demand. More courts, more courts!"
He said what K21 really wants to do is to give every person an opportunity to live their most healthy, active life and the sport of pickleball is exploding.
"This is really our third pickleball venue project, and it's been great. The community is embracing it and – like Craig said – more because more and more people are enjoying this amazing sport, and so we're just excited to be a part of the community that is an amazing place to be and try to help people have every opportunity that they can. We're just grateful that we're here in this community and get to play a part," Haddad said.
David Thieme said, "First of all, thank you for the opportunity. Our foundation was started by my mom and dad and he was very much into helping community, helping organizations trying to bring families together. So that's what we try to do, live on that legacy of my mom and dad, and it's just a privilege that we had this opportunity. Thank you."
After the ceremony, Haddad said the very first pickleball project was at Kelly Park in Warsaw. The Winona Lake courts were a couple years in the making and help expand the capacity of pickleball as it has grown so much. Last year, the city of Warsaw was able to complete a renovation of the courts at the city's Bixler Park, adding four more pickleball courts.
"So, here in Winona, again, having this as an amenity for the park and so many people who are already enjoying Winona Lake park has been great. And, again, the only feedback I've gotten is, you should have built more," Haddad said.
Pickleball is the fastest growing sport in America, he said, and "as a community we want to give people that opportunity to discover really a new sport for a lot of people that's been fantastic. So, we're happy to do that."
The other thing that is unique, Haddad stated, is the new pickleball courts allowed the town and the park to bring a greenway path through the basketball, tennis and pickleball courts, and connect the already-existing Heritage Trail Greenway to the sidewalk system along Park Avenue.
"That was a nice extra feature that this project included and it allows people to stay off the roads and have biking and running and walking options that takes you through the park and connects you to the longer Heritage Trail. That was a good add to the park and community as well," Haddad said.
David Thieme said the goal of The Thieme Family Foundation was to "basically get into the community and help promote families do things together."
He said he and his wife Julie had their place in Winona Lake going on two years. They are originally from Fort Wayne and their son and daughter-in-law live on the lake.
David and Julie are really into pickleball, he said, and every year they're looking for things for the foundation to contribute to, which are 501(c)3 charities. As examples, he cited the Rescue Mission and Redemption House in Fort Wayne.
The pickleball courts are the first things the foundation has contributed to in Winona Lake, he said.