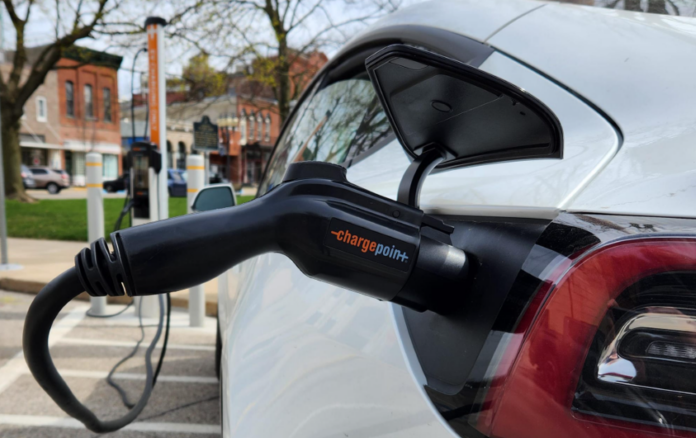 By Dan Spalding
News Now Warsaw
WARSAW — Winona Lake is in line for its first electric vehicle charging station.
Michiana Area Council of Governments (MACOG) is applying for grant money from the U.S. Department of Transportation with the goal of establishing 20 to 25 locations across Kosciusko, Marshall, St. Joe and Elkhart countries.
The grant covers 80 percent of the cost and the host would be expected to cover the rest.
The proposed location in Winona Lake would be in the parking lot of the town hall.
Hosts can be government entities and companies whose parking lots are available 24/7 …  According to Leah Thill, MACOG's director of sustainability.
Thill said they're hoping to add charging stations in towns like Winona Lake, Argos and Middlebury that otherwise would not likely see the service made available.
The only two electric charging stations currently available for public use in Kosciusko County are near the courthouse in Warsaw.
Convincing the public to embrace electric vehicle options is still a work in progress.
About 90 percent of those who purchase an electric vehicle have a charging station at home.
Public charging stations provide a good backup, she said.
"We think there is a chicken and the egg issue," Thill said. "If we can bring charging (into the public square) we'll be able to see the cars that are already here and being charged at home and will reveal a good option that's here."
Thill was in Warsaw asking for (and receiving) support from the Kosciusko County Commissioners for a non-binding letter of support for the grant.
Anyone interested in hosting a charging station is encouraged to contact MACOG.