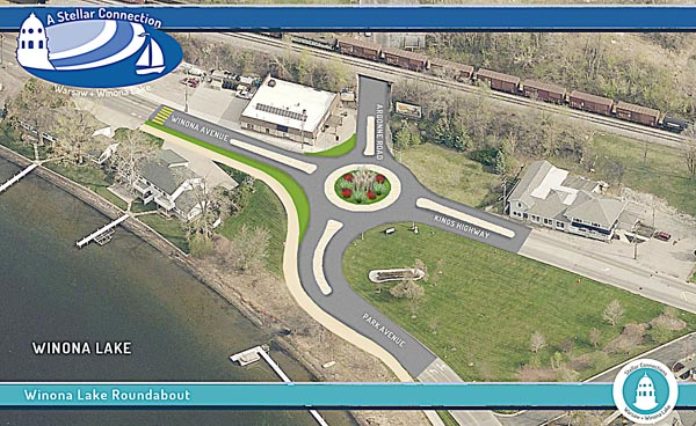 The seventh Stellar Community project is a joint one with Winona Lake.
The Town of Winona Lake has planned to improve the intersection of Winona Avenue, Argonne Road, Kings Highway and Park Avenue.
This intersection is the physical intersection of Warsaw and Winona Lake and welcomes visitors between the city and town, but is congested and can be difficult to traverse, according to information provided by the City of Warsaw Building and Planning Department. The unusual approach angles and dominant turning motions make it ideal for a roundabout design.
The goals of the project are to:
• Increase traffic efficiency and safety through one of the most important intersections in the community for 15,748 average vehicles daily
• Provide for safer bicycle and pedestrian connection
• Enhance safety and reduce the number of accidents at the intersection
• Improve traffic flow
• Landscaping and bridge enhancement with opportunity for public art displays.
Indiana will designate its 2016 Stellar Communities Aug. 18 at the state fair, and the City of Warsaw is one of three finalists vying for the honor in its category.
To inform the local community about the proposed projects the city has in mind as part of the Stellar Community Program, and to gather input, Warsaw has created a Facebook page under "Warsaw + Winona Lake A Stellar Connection."
Each week, the Facebook page will detail two of the proposals, which also will be published in the Times-Union. Two proposals have been published each week for the last three weeks.
Times-Union