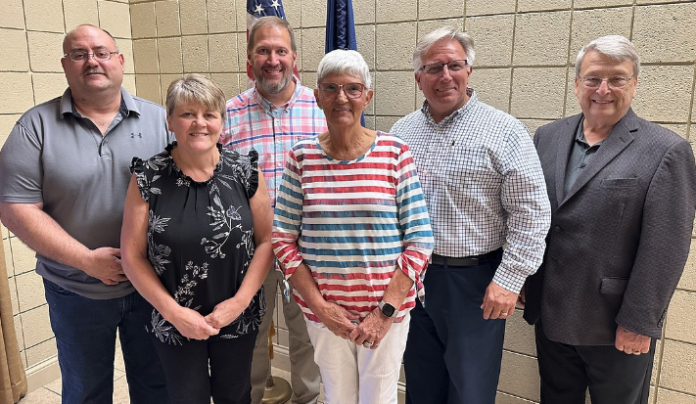 By David Slone
Times-Union
PIERCETON – It was standing-room only Thursday at the Pierceton Community Room as a sizeable number of Republican voters turned out for the Pierceton town convention.
With no other party putting up any candidates this year, there won't be a town election in Pierceton on Nov. 7 and the candidates selected by the voters Thursday will take office Jan. 1.
Incumbent Myra Mast will serve another four-year term as the town clerk-treasurer. Matt Brubaker will return to the town council, and he will be joined by newcomers Glenn Hall and Steven Eric Trump. Hall and Trump will replace Democrat Janet Castle and Republican Tom Barker on the council as Castle and Barker chose not to seek re-election.
Of the 654 people eligible to vote in Thursday's town convention, 78 voted in the clerk-treasurer's race and 79 voted for the town board, or approximately 12%.
"This is the biggest convention we've had here for a while," town convention chair Georgia Tenney said at the start of the event.
Mast received 48 votes, with challenger Jerry Kreger receiving 30 in the clerk-treasurer's race.
For the three council seats, Gordon Baker received one vote; Chauncey Smith, 19; Hall, 75; Trump, 72; Greg Chism, 30; and Brubaker, 36. Tenney announced at the onset of the convention that while Baker's name was still on the ballot, he had chosen to withdraw from the election.
The clerk-treasurer race took place first, with each candidate given up to five minutes to tell voters why they should be elected.
In her comments, Mast talked about the changes she made since first being elected in 2019 to make her office more cost-effective and efficient. She discussed how she made the clerk-treasurer's office open during lunch hour to be more customer-friendly, grants for the town and how all of Pierceton's town employees and elected officials work together.
"I enjoy working as a team, and I believe that if we can all work together, pulling our talents, we are sure to build a better Pierceton," Mast stated.
After Mast was announced as the clerk-treasurer winner, the five candidates for the three council seats spoke about why the voters should choose them.
Hall, a resident of Pierceton for almost 36 years, said he and his wife built a home in Pierceton, raised their children here and built a church in the community.
"There's a family-oriented hometown feel about Pierceton that I want to promote and continue," he said.
Hall said he wanted to be on the council to be more involved in his community.
"I think it's time for just some fresh leadership, open minds and maybe some new ideas," he said. "Every town competes for grant dollars and tax dollars, and I want to support initiatives that will keep our tax base as low and manageable as possible while also supporting those businesses and initiatives that will help our town grow and be viable in the future."
He talked about the desperate need in the town for child care and housing and he wants Pierceton to be part of the solution while still maintaining its family-friendly atmosphere.
"We need to clean up some properties in town to make it an even more beautiful town," Hall said.
The council needs to support the town's departments, including police and fire, so that "we have the kind of safe, responsible community that people love to come to and live in," Hall said.
Trump said he's lived in Pierceton with his wife and children for 24 years. He attended elementary and middle school in Pierceton and graduated from Whitko High School in 1990.
"The Trump family has lived in this community for almost 200 years and shown a continued devotion of service to the Pierceton community," he said.
Trump talked about his coaching experience and his service on the Whitko School Board.
"I want to see everyone in our community thrive and I will do all I can to participate in activities that promote the town and the people of the town, whether it be through civic, religious or community organizations," he said.
Trump pledged to help foster the continued growth of Pierceton.
"I want Pierceton to be a community where businesses, restaurants and retail stores want to do business," he said. "I will always strive to make decisions to keep the tax base as low as possible to the benefit of the citizens and businesses of our town."
Pierceton being a great town, he said he would do what he can to make it more aesthetically pleasing to visitors and residents alike.
In his comments, Brubaker said he's lived here his whole life. In 2000, he met his wife, told her he was a firefighter and she'd have to move to Pierceton and she agreed with him.
He's served on the youth league board of directors, been on the fire department for 25 years and helped with Pierceton Days.
"I've been on the council for eight years. This town is the best town in the world. We have such a wonderful community and family atmosphere," he said.
Brubaker said he feels they have made some progress in the last eight years and he wants to see the projects that are developing to their end.
"I also feel that there are many new projects that need to be implemented. I've been helping work with the Chamber of Commerce to switch them to a Main Street organization. With that change will come more opportunities for grants and money from the state and the federal government," he said.
He's excited that the town is getting the utility study completed so the underground utilities can eventually be fixed.
"I would love to see the town grow, so I want to work with KEDCO on hopefully getting some land purchased and getting new homes built. I'm also working with KEDCO on finding new industry projects and try to encourage them to build here for new jobs," Brubaker said.
He refuted the idea that Pierceton was a dying community.
"We are alive. We're strong and you have my promise, if elected, I will give you 120%. This is my hometown that I love," Brubaker said.