News Release
WARSAW — A woman was arrested after police and fire responded to a car fire south of Claypool Monday morning.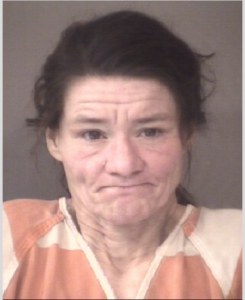 Kosciusko County Deputies along with Claypool Fire responded to a report of a fire at 3267 W. Hill Lake Road where they found the vehicle fully engulfed.
The incident was reported shortly after 9 a.m., according to a news release from Kosciusko County Sheriff's Department.
During the course of the investigation, Jodi Carter, 44, was found in her backyard armed with a shotgun. Carter would not comply with officers and
after lengthy negotiations was taken into custody.
Carter was taken to Kosciusko County Sheriff's Department and initially
booked for possession of methamphetamine.
Also assisting at the scene were Silver Lake Police, Claypool Police, Department of Natural Resources, Claypool Fire Department, Silver Lake Fire Department, Lutheran EMS, KCSD
Special Operation Group.