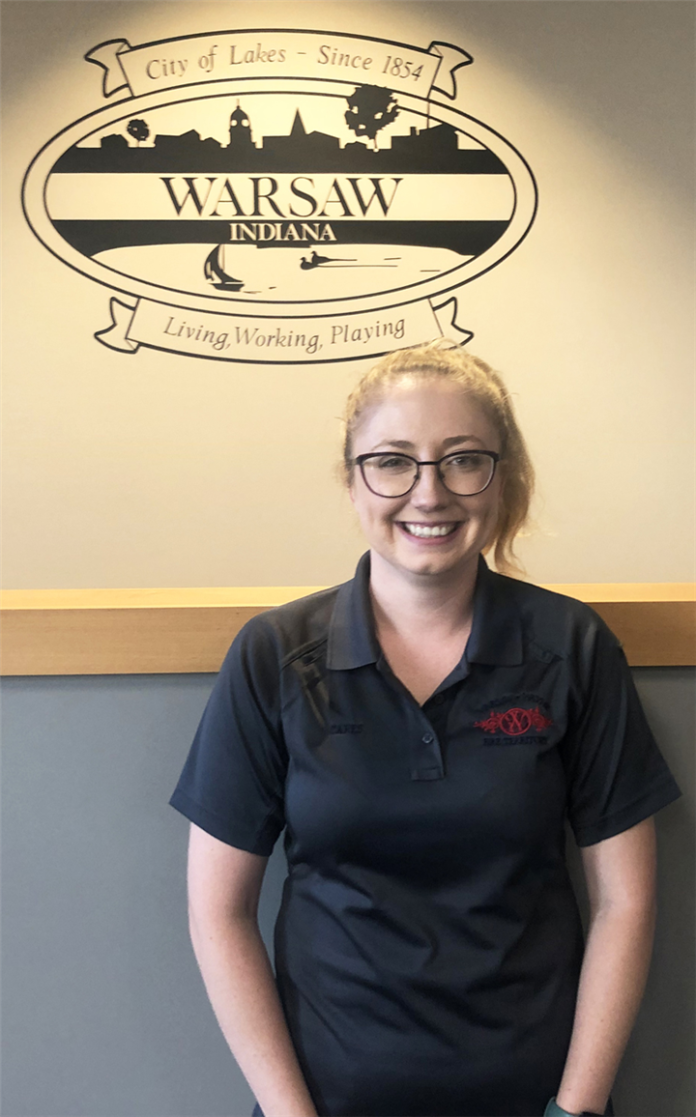 Warsaw-Wayne Township Fire Protection Territory Board met the new CARES coordinator on Tuesday and approved a K21 grant for the CARES program.
CARES – Community Assistance Resources & Emergency Services – is a program that addresses those suffering a mental health crisis, assists those who are having issues acquiring or reconciling medications and aid in getting appropriate medical care, according to the city of Warsaw website. Continual services also are provided for home safety assessments, emergency housing needs assistance, uninjured fall assistance, general health assessments and resources allocation for residents.
In introducing Mikaela Bixler, the new CARES coordinator, Fire Chief Garrett Holderman said she is "awesome" and has been "very good."
EMS Chief Chris Fancil said that from January to May, "We made approximately 128 CARES calls – what we would consider, classify as citizen assistant or CARES calls in our system. In June, Mikaela started on the 17th. She's made 56 calls in the month of June and has been busy. Already today she was out doing a lot of stuff."
He said he believes Bixler will be a "remarkable" addition to the CARES program and "really jumpstart this thing. She makes me feel tired because she's got all this energy and she's out doing stuff."
Mayor Joe Thallemer asked Bixler to introduce herself and give a little bit of her background.
Bixler said she came from the Bowen Center after working there for 3-1/2 years in their transitional living facilities.
She has a bachelor's degree in human services from Purdue Fort Wayne.
"I've always really loved working with people," she told the Fire Territory Board.
Thallemer said, "We're really happy to have Mikaela. We had quite a few people apply and I was very happy to sit down with Mikaela and talk to her about her background and taking the lead charge of this new program. I know we've got community support. I think there's a demand there. We just needed somebody very bright, very energetic and she's very energetic. Mikaela, thank you for stepping up and we're really excited to see this program really take off."
City Councilman Mike Klondaris said he's known her since she was knee-high.
"I love it so far, so thank you," Bixler said.
Klondaris said Bixler couldn't have asked for a better mentor than Fancil.
After the meeting, Bixler said she's originally from Silver Lake and graduated from Warsaw Community High School in 2014. After earning her bachelor's degree in human services from Purdue Fort Wayne – which was still IPFW at the time – she went to work at Bowen Center.
Asked why she decided to apply for the CARES coordinator position, Bixler said, "I have always been really interested in working with different kinds of people and I saw how important the program is. Working at Bowen, I was able to see some of the needs in the community and the CARES program offers some answers to some of those needs. So that was really exciting for me."
She said some of the calls that she's had were calls that she's responded to while others were calls that she's followed up on. "The guys will go out and respond and then I'll follow up with the family or the patient afterward."
The issues have been a wide variety, she said, from mental health concerns to domestic violence situations and connecting people to organizations like The Beaman Home. She's worked with the elderly who need help in finding resources or access to food and medication.
Bixler said she's not been surprised at the number of calls she's responded to in the community.
"Working where I was (at the Bowen Center), I can see there are a lot of people in need in the community. And there's also a lot of resources in our community. Sometimes people just need connected to them," she said.
CARES being a fairly new program, Bixler said she just wanted people to know that they are here to help and to help connect them to other services they might need. "So if they need help and they don't know who to call, they can call us."
The number to call from 8 a.m. to 4 p.m. Monday through Friday is 574-453-7901. If a person calls outside of those hours, Bixler said they'll return their call the next business day. If it's an emergency, call 911.
During Tuesday's meeting, Fancil also asked the Board to accept a K21 Health Foundation grant for $20,000. He said the grant was for ballistic vests for the CARES people as they go out in the community, for cameras for vehicles and other safety equipment.
"K21 was gracious enough to approve that grant request for the full amount. It is a zero match by us. It is $20,000 of grant funds," Fancil said.
Thallemer told Fancil he appreciated him taking the time to apply for the grant and K21's generosity.
Holderman also gave a shoutout to K21 for being amazing. Fancil expressed his gratitude toward K21, too.
The Fire Territory Board unanimously approved the grant. The grant acceptance also will need to be approved by the Board of Public Works and Safety