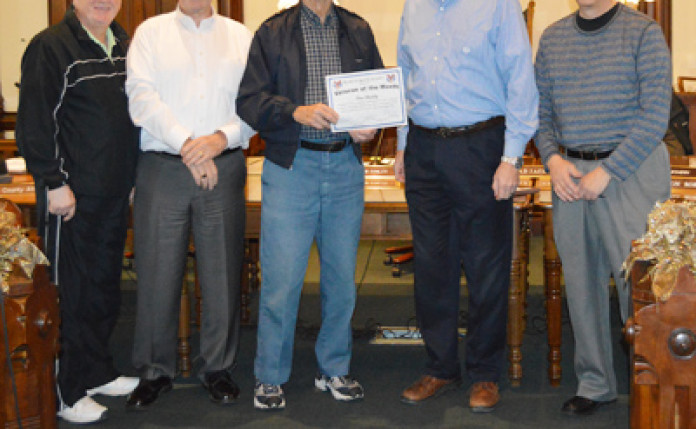 World War II veteran Don Shively has a simple answer when people ask him about his experience taking two islands from the Japanese.
"I say, 'You had to be there,'" Shively said during the Kosciusko County Commissioners meeting this morning, where he was honored as the December Veteran of the Month.
Shively, 93, participated in the invasion of Anguar and Peleliu between September and November 1944. He recalled that 4,000 to 5,000 American soldiers were lost as the Marines and 81st Infantry swept over the two islands off the east coast of the Philippines, as well as a total of 20,000 to 25,000 Japanese, according to the biography recounted by county Veterans Affairs Officer Rich Maron.
Shively was preparing next to land on the main islands of Japan when the empire's surrender changed their task to occupation.
After returning to Kosciusko County with his wife, Fran, who he married on Valentine's Day in California just weeks before shipping out, he worked for Standard Oil. After he retired from there after 29 years, he delivered school buses until age 90.
He and Fran, who passed away in August, both loved sports, Maron noted – they held Warsaw High School season tickets for 47 years and attended 250 to 300 Chicago Cubs games.
Also this morning, commissioners approved the appointment of Rob Cunningham as the new general manager of Kosciusko Area Bus Service. He was introduced by Randy Hall, corporate vice president of Cardinal Services, which operates KABS and which picked Cunningham to replace former manager Kevin Planck.
Planck resigned to accept a job in Marion last month.
(Story By The Times Union)