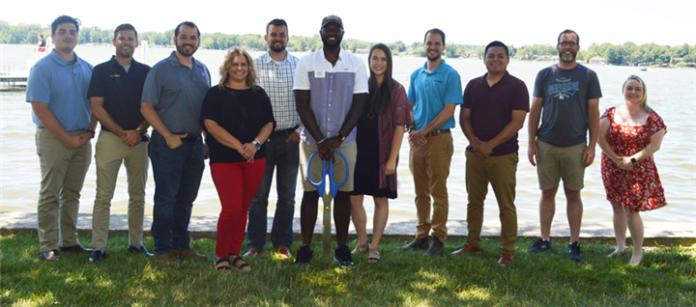 Young Adult Professionals (YAP) is built upon three pillars: networking, leadership and philanthropy.

Started in 2005, YAP Steering Committee Co-Chair Josh Silveus, 29, said, "Our main goal is to connect younger people in the community and we do that through a variety of different ways. It's a pretty broad focus in that sense."

He said they've had golf outings where they've connected younger people with some older businessmen in the community. YAP has had charity drives to connect younger people with various organizations.

"We do a lot of lunches and get-togethers, basically just trying to connect younger people with younger people," Silveus said. "I feel like that's where a majority of our interests (lie). We get people coming to our  after-hours stuff. We have a monthly lunch, we'll do that at different businesses around town, which is also cool because that allows us to get people connected with businesses that they wouldn't normally go eat at. Those always have really good turnouts."

Lauren Klusman, 28, YAP Steering Committee co-chair, said the shortened version of YAP's mission is "to show young professionals in our community what Kosciusko County has to offer through leadership, networking and philanthropy."

"So we try to circle all of our stuff around those three things," she said. "The networking would be all of those events that (Silveus is) talking about like what we do monthly, which is lunch, after-hours and happy hour."

They recently had their first golf outing, which Klusman said was fun and went really well. Silveus said they could have gotten more people, and Klusman agreed. Each team was sponsored by a "seasoned professional" – someone over 40 – who could bring a partner in and they were paired with two young adult professionals. The outing was held at Rozella Golf Course and nine teams of four and one team of three took part.

"Some people have golfed before, but others don't really golf much, so we wanted to get them out there so they could be more comfortable if they ever are asked to play in an outing," Klusman said.

Ten young adult professionals officially sit on the Steering Committee, with around 40 people in YAP, she said. On average, 15 people may attend an event.

"Sometimes we'll have 10, sometimes we'll have 20, but we always have about 15," Silveus said, noting that it may depend on what the event is and where they're having it.

Members of YAP are under 40 years old. Technically, there is no minimum age, but many of the places YAP goes to require a person to be at least 21. Silveus estimated that most YAP members are in their late 20s to early 30s. They represent various industries, from finance and insurance to marketing and publications.

Klusman said YAP is the only Kosciusko Chamber of Commerce committee that a person can be a part of and not be a member of the Chamber, though it is preferred that one be a member of both.

Community service projects throughout the year are a big part of YAP.

They collected 175 pillows and 165 sets of twin sheets for Fellowship Missions; their goal was 160 of each.

As of May/June, they delivered over 300 meals in 2022 to seniors around Kosciusko County through Mobile Meals. Klusman said there's three to five YAP members who deliver for Mobile Meals and they've been doing that since January.

They have adopted a family for Christmas, volunteered at First Friday, served lunch at Fellowship Missions and had clothing drives for Combined Community Services.

Klusman said the Steering Committee mostly decides all the events that they're going to do, but they always welcome ideas from any YAP member.

"The majority of the brainstorming comes through Steering Committee meetings where we actually sit down and just kind of come up with what we want to do over the next couple months," Silveus said.

YAP technically has a budget at the Chamber but Klusman said they don't really need it for anything other than for their annual YAP Talks event, which is focused on leadership.

"That is kind of like TED Talks, but live and we have community leaders come in and talk about different topics and have dinner, so that's where the budget comes in," she said.

The next YAP Talks is scheduled for this fall.

The leadership and philanthropy pillars overlap a little bit, Klusman said, so some of the leadership comes from the volunteering that YAP members do.

"Just getting people involved. Getting them to (give of their time)," Silveus said. "… I feel like there's a lot of people that want to get involved but they don't know necessarily how to, so it's kind of nice having a Steering Committee to literally brainstorm some ideas for us to do and then people just filter in to whatever sounds interesting to them."

For people who move into the community and who aren't familiar with what it has to offer or maybe don't have a good core friend group, Klusman said YAP allows them to meet people and friends.

As one might easily be able to tell, the third pillar – networking – is something YAP does a lot of and is intertwined with the other two pillars.

"We're getting ready to do some different things in the community, like we're going to go on the Tippy River Adventures kayaking trip, and then go on the Dixie, and bowling and things like that. I'm sure we'll probably attempt to go ice skating once that opens," Klusman said.

All the activities take place in Kosciusko County.

There are some young adult networking groups that a person pays to be a part of and are very professional and large, Klusman said. There is no cost to join YAP and most of its events are casual.

Silveus said they've had people ask if YAP's events required suits and ties, but they don't.

As for the future, Klusman said they'd like to see YAP grow, but there is a point of diminishing returns. "I feel like if it's too big, then we'll lose some of that" intimacy, she said. "I like the size that it is, but I'm happy for it to grow."

Silveus said there are some YAP events where it's nicer to have a lot of people in attendance, but there's also events where it's nicer that it's a small group. Klusman said she'd love to pack the house for the YAP Talks and the more formal events. She'd also like to see bigger turnouts for the YAP lunches with officials, which have included Warsaw Mayor Joe Thallemer and State Rep. Craig Snow in the past. Silveus said the annual lunch with the mayor is probably the biggest lunch with an official.

Upcoming YAP events include lunch at noon July 14 at Ruby Tuesday and Happy Hour on the third Wednesday of every month from 4:30 to 7 p.m. at Tippy Creek Winery in Leesburg.

To find out more about YAP or its upcoming events, check out its Instagram page at YAP Kosciusko; on Facebook at Kosciusko Young Adult Professionals – Kosciusko Chamber; or check out its monthly or bimonthly newsletter. Young adult professionals also can email Klusman at lklusman@kchamber.com and she will add them to the newsletter list.

Along with co-chairs Silveus, of Silveus Insurance Group, and Klusman, of the Chamber, the Steering Committee includes Shawn Brown, Lake City Living Magazine; Mitchell Hall, W.R. Hall Insurance Group; Brandon Stewart, Edward Jones Financial Advisor; Savannah Beer, Snyder Strategy Real Estate; Olivia Tucker, Maple Leaf Farms; Scott Clay, NAPA Auto Parts; Corbin Holtsberry, Lake City Bank; and Kristen Hale, Kosciusko Economic Development Corporation.