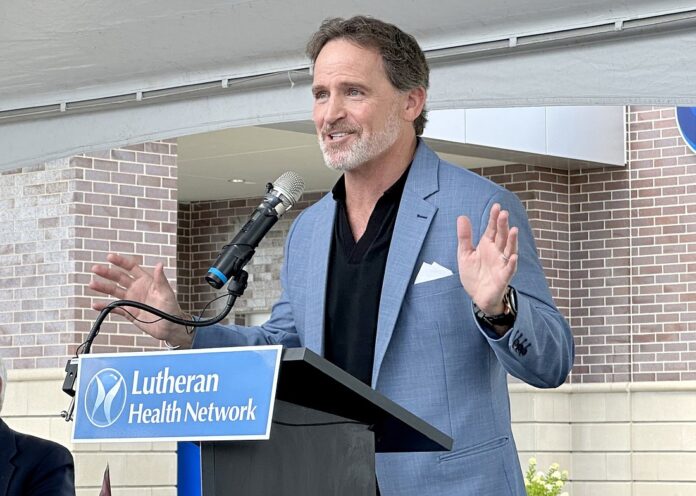 Zimmer Biomet announced a leadership transition Tuesday after Chief Executive Officer Bryan Hanson resigned to become CEO of the healthcare spinoff at 3M.
According to a news release, Zimmer Biomet Holdings Inc. announced the appointment of Ivan Tornos as president and CEO and election to the board of directors, effective immediately. Tornos has most recently served as chief operating officer of Zimmer Biomet, a role he has held since early 2021. He takes over as president and CEO from Hanson, who has served as the company's president and CEO since late 2017 and chairman since 2021.
Suketu Upadhyay, who joined Zimmer Biomet in 2019 as executive vice president and chief financial officer, is expanding his role to also include full responsibility for overseeing the company's global operations and supply chain functions, the release states. Additionally, current Lead Independent Director Christopher Begley takes on the role of Chairman of the Board, which was effective Tuesday.
"It is an honor to be appointed CEO of Zimmer Biomet at a time when our execution is extremely strong and our innovation momentum is at an all-time high," said Tornos. "I am grateful for Bryan's leadership in transforming the company and am now looking forward to leading the team and accelerating our ZB strategy to drive continued growth and boldly advance the standard of musculoskeletal care."
Tornos joined Zimmer Biomet in November 2018 as group president, orthopedics and a year later was named group president, global businesses and the Americas. He was appointed chief operating officer in March 2021 with responsibility for overseeing all global businesses at Zimmer Biomet, as well as leading the global operations, clinical and medical education and global R&D and new product development functions. In this role, he had oversight of the Americas and the Europe, Middle East and Africa (EMEA) regions.
Prior to joining Zimmer Biomet, Tornos served as worldwide president of the Global Urology, Medical and Critical Care Division of Becton, Dickinson and Company. Earlier, he was with C.R. Bard in positions of increasing responsibility, most recently serving as president, EMEA. Before joining C.R. Bard, Tornos served as vice president and general manager of the Americas Pharmaceutical and Medical/Imaging segments of Covidien International. He also served as international vice president, business development and strategy with Baxter International Inc., and prior to that he spent over a decade in leadership assignments around the globe with Johnson & Johnson. Tornos currently serves as an independent member of the board of directors of global healthcare company PHC Holdings Corporation.
During his tenure at Zimmer Biomet, Hanson spearheaded the company's transformation, reshaping the mission, culture, corporate strategy, quality, compliance, operations and market performance, the release states. Hanson also successfully orchestrated the spinoff of the company's spine and dental franchises to an independent company, ZimVie Inc.
"The last five and a half years at the helm of Zimmer Biomet have been transformational, not just for the company, but for me, as well," said Hanson. "I have the utmost confidence in Ivan, the entire ZB team and the strength of the business. I cannot think of a better leader to continue to move the ZB mission forward and deliver value for patients, customers and shareholders."
According to a news release from 3M, Hanson will join 3M on Sept. 1 as CEO of the Health Care Business Group.
Hanson is a proven executive with a track record of successfully leading, growing, and transforming global medical device businesses to achieve greater innovation, commercial success and driving value for customers, patients and shareholders, the release states.
"We are pleased to have Bryan join us to advance the spin off of our Health Care business and build a leading independent medical technology innovation company," said Mike Roman, 3M chairman and chief executive officer. "His industry expertise, ability to drive growth and track record of building a strong culture and teams will make an immediate impact."
3M's Health Care Business Group, with approximately $8.4 billion in sales in 2022, is a diversified healthcare technology leader with a deep and diverse portfolio of trusted brands, global capabilities and leadership in attractive end market segments such as wound care, oral care, healthcare IT and biopharma filtration. As a standalone business, Health Care will be better positioned to deliver industry-leading innovation that enables better, smarter, and safer healthcare for patients worldwide, according to the release.
"I am honored and excited to join 3M's Health Care Business Group at such an important time in its evolution," said Hanson. "I have a deep respect and admiration for what 3M has built in health care – strong brands, quality products, commercial excellence and customer-driven innovation. I look forward to working with the team to more deeply understand and realize the potential of our business as we accelerate our path forward, and build on our legacy as a trusted leader in medical innovation."
Prior to joining Zimmer Biomet, Hanson was executive vice president and president of Medtronic's Minimally Invasive Therapies Group, where he oversaw and provided strategic direction to an approximately $9 billion business. Prior to Medtronic, he served in a number of executive roles of increasing responsibility at Covidien. In 2013, he was named group president of Covidien's Medical Devices business. In 2011, as Surgical Solutions Group president, Hanson transformed two of Covidien's largest divisions — Energy-based Devices and Surgical Devices — into one global business unit.
Hanson serves on the board of directors of Walgreens Boots Alliance Inc. He also serves on the board of the Advanced Medical Technology Association, is a member of its International Board Committee and chairs the China subcommittee. He is a director emeritus of the Americares board of directors, an emergency response and global health organization committed to saving lives and building healthier futures for people in crisis.