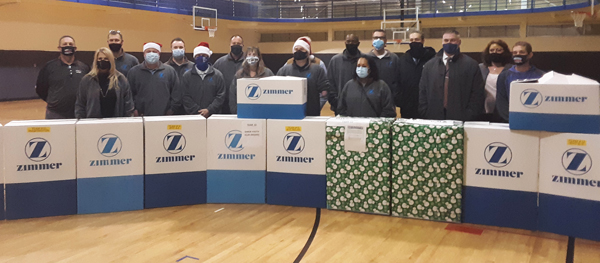 Zimmer Biomet operations supervisors dropped off 13 boxes of athletic equipment, school supplies and snacks at the Baker Youth Club Tuesday as part of their Holiday Give Back event.
Monday, as part of the event, about 20 boxes were dropped of at Warsaw's YMCA.
BYC offers before- and after-school programs that serves about 260 Warsaw students, according to information provided at the event.
Jennifer Hlutke, human resource associate director for Zimmer Biomet, said the company pulls supervisors together every month to provide training and support for anything they need from a human resource standpoint.
"Every (year) in December, what we try to offer is a celebration for their hard work and dedication throughout the year," Hlutke said.
As part of that celebration for the past two years, Zimmer's supervisors have done a give back to thank the community for their support of Zimmer Biomet. Hlutke said the company wanted to focus on the children in the community during its give back event this year.
Zimmer Biomet had over 150 supervisors split up into 16 teams, working together to fill boxes for programs run by the YMCA Kids Club within the schools and the Baker Youth Club, said Angela Krebs, human resources coordinator – operations, in an e-mail about the event. "This year, more than ever, our supervisors have realized how important reliable child care is to their team members. Both of these clubs support students during eLearning days and are open during school vacations and closures, which allows our team members to still make it to work."
"It's even more evident this year than any other year that we really need reliable before and after school child care, especially during eLearning days and days off that are just unpredictable," Krebs said. Before and after school care for children "is extremely important," she said. Because BYC and YMCA Kids Club provides the care for children, parents are able to get to work on time.
Krebs said Zimmer Biomet wanted to give back to the community and the donations were a "small token of our appreciation."
Warsaw Community Schools Superintendent Dr. David Hoffert said Tuesday WCS would not be able "to do what we do" without BYC and what they do. Without the services, students could be at home by themselves before or after school.
Tracy Furnivall, BYC executive director, said BYC would not be able to do what they do without the community. He said BYC was extremely blessed and thanked Zimmer Biomet for the time and effort they put in to the event.