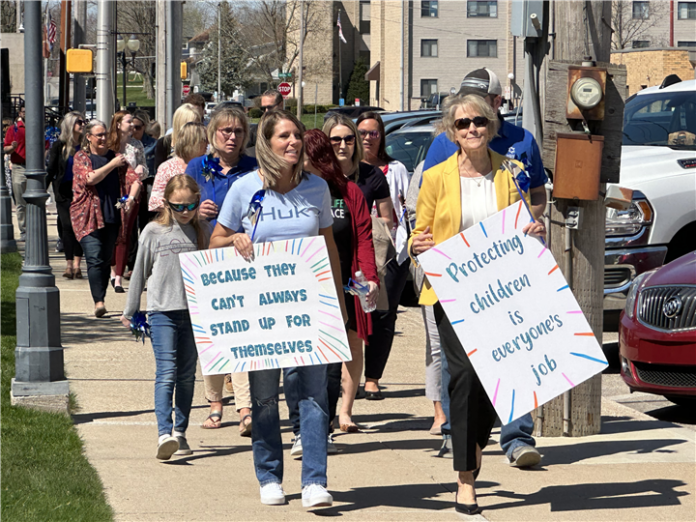 By David Slone
Times-Union
WARSAW — Everyone who is saddened or angered by stories of child abuse and neglect was encouraged Wednesday at a blue pinwheel planting ceremony to be pro-active instead of burying their heads in the sand.
The ceremony, organized by CASA (Court Appointed Special Advocates) of Kosciusko County, took place at noon at the county courthouse.
CASA of Kosciusko County Executive Director Erin Rowland Jones explained, "We are here to bring some attention to child abuse prevention. April is National Child Abuse Prevention Month, and we urge the entire Kosciusko County community to engage in activities that strengthen families in our community."
She said they plant pinwheels each April as they are the national symbol of child abuse prevention. The pinwheel represents the playfulness and whimsy of a happy childhood that all children should have.
"We, as a community, are here to stand up against child abuse and bring attention to child abuse prevention," Rowland Jones said.
Kosciusko County Local Office Director for the Department of Child Services Sara Cole said, "Most often when I tell people what I do for a living, they say things like, 'I could never do what you do.' And I'll be honest with you, what we do at DCS is very challenging."
Another thing that people often ask her is what can they do to help.
"So, if you are asking yourself, 'What can I do to help children in the community of Kosciusko County?' I have some suggestions for you," Cole said.
She suggested a person could become a mentor to youth who are struggling, become a CASA volunteer, become involved with their church and find ways to give back.
"But beyond any of that, and most importantly, I will tell you that the department is in desperate need of foster parents to take in children," Cole said. "Whenever a child is removed from their caregivers due to abuse and neglect, we try to place children as close to their home as possible so the children can maintain their relationships in school and in the community."
If possible, DCS will place children with relatives or kinship family to ensure a child's comfort in a challenging time, she said. "Currently, most of the children placed through Kosciusko County are placed with relatives and kinship care, which is a huge benefit to the children. However, when relatives and kinship are not available, DCS relies on foster parents to take children in."
Cole said over the past year, there have been several situations where children had to stay the night in the local DCS offices due to no relative or foster care placement being available to the child.
"DCS staff does our best to make the child feel as comfortable as possible in these situations, but staying the night in an office does not compare to going to a home with a bed to sleep in," she said.
She encouraged those at Wednesday's event to consider becoming a licensed foster parent, to take time to learn about the process and make an informed decision.
"As a final thought, I want to remind you all that everyone in Indiana is a mandated reporter of child abuse and neglect. If you suspect or have concerns of abuse or neglect, please call our hotline, which is staffed by DCS employees 24/7/365. The number to call is 1-800-800-5556," Cole stated.
Former Jail Chemical Addiction Program (JCAP) Director Courtney Jenkins told her own story about dealing with CASA.
"Our family was directly impacted by CASA nearly 20 years ago when we assigned a CASA for our son. We were in a custody battle and trying to get his biological dad's parental rights terminated," she said. "We didn't really know what to expect."
One day she was at home and the CASA made a visit. Jenkins said she was "mortified" because she felt like the CASA was there to judge her family.
"But what I really quickly came to understand was that (she) was there to represent our son. She wasn't there to judge my messy house or my half-dressed kids. She really came so that she could be a voice for our son. And, she stepped in when our love and protection weren't enough. We needed somebody who could unbiasedly advocate for him and speak to the judge and the courts on his behalf without the he said/she said and without the emotion that a parent has behind it. And she did that. She did it in the most kind and compassionate ways," Jenkins recalled.
The CASA visited Jenkins' son at school, interviewed neighbors, Jenkins' husband's co-workers and family.
"She was just this sweet, kind, compassionate woman who was not assuming. She just was there to speak for our son. And, she was able to do such a wonderful job because she had had, one, a great life experience, but also she had received great training through the CASA organization," Jenkins said. "For us and our family, we've always been incredibly grateful for her kindness and her compassion and her ability to fill that gap between what we could do for our son and what needed to be done for him."
She said she will always be grateful to CASA for all that they do in advocating for children.
Rowland Jones said Jenkins' story brings up a good message.
"We at CASA typically get involved in cases when there has already been abuse and neglect, but we need more volunteers because often the judges do want to appoint us to family law cases where there could be issues where a child's voice needs to be heard. There could be safety issues or other issues involved, so there is a preventative nature in some of the work that we do," she said.
Those in attendance at the event then marched around the county courthouse in support of child abuse prevention, led by Jenkins and Judge Karin McGrath. At the end of the march, everyone planted pinwheels on the courthouse lawn.
McGrath then spoke, recalling what Cole had said previously about people telling her they can not do what she does for her career because it's too sad and difficult.
"Well, guess what? Sadness and the difficulty does not go away if you bury your head in the sand and not get involved. It's still there, you're just not taking any action to make it better," she said. "I think it's part of the human condition we feel sadness when we hear of things like the number of children who are abused and neglected in this country alone. We should feel sad, we do feel sad. That is human."
But to "really care" about that information is to take action and do something "in your little way with where you're planted to make a change and to make that better. That is the most important thing we take away from events like this: What can I do? What am I going to do?" McGrath said.
She said a person may not be in a place in their life where they can be a foster parent, they may not have time "right now" to be a CASA but there are things a person can do. "If you're not sure what those other little things are, talk to Erin, talk to Sara, talk to all the folks here who are involved now. They can point you in the right direction. There's action every single one of us can take to watch out for these kids and to avoid seeing more of these children in my courtroom," McGrath said.
For more about CASA, visit the website at https://casachildren.com/.