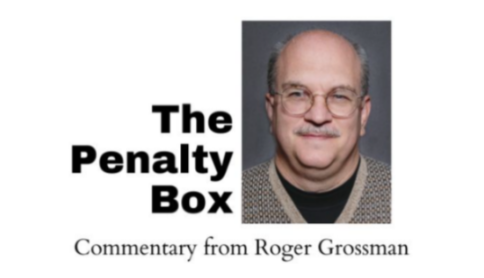 By Roger Grossman
News Now Warsaw
I am writing this today directly to the football coaches and players at Tippecanoe Valley.
The rest of you … feel free to read if you are interested.
Vikings, I am sorry.
I am sorry that you, for whatever reason, are stuck in a sectional that has all the geographical properties of a gerrymandered political voting district map.
I am sorry that your reward for traveling over 90 miles on a Friday night to Broad Ripple on Indy's near Northeast side and beating the #1 team in 3A would probably be to go back down to Noblesville the next Friday and take on the #3 team in 3A.
It's not right, and it's not fair.
So … what are you going to do about it?
You are learning one of the most important lessons you will ever learn in your life—life is not fair.
You players will grow out of high school and go to college or start working and things will happen on a regular basis that will make you think and say "that's not fair."
You will be passed over for that aid package or that scholarship and it will be given to someone else.
You will get cheated on by the love of your life.
Someone will steal from you.
Your child will get sick and be rushed to Riley Hospital for Children.
Your mom or dad will die way before they should.
It's not fair — none of it.
But declaring that won't change it and it won't make it any righter than it was before.
So, Tippecanoe Valley … what are you going to do?
You could soak yourselves in an ice bath of pity, go to Indy, take your lumps, and come home to the hugs and pats on the back of your friends and family who douse you with encouragements with a theme of "you had a great season, and you should be proud of it."
You could, but can I offer you an alternative?
I know, I am just "the guy who broadcasts the team up the road" to most of you — I get that.
And I am not one to intentionally provide bulletin board material for teams in our area, but in this case, I think it's appropriate and I am going to give you something to chew on for what lies ahead of you.
First, you have a game to play this Friday. It's your last regular season home game, and it's against Bremen.
Your seniors have meant a lot to you over their time there — honor them for it.
And when that game is over, you begin your focus on Chatard.
The football-watching state of Indiana will give you a hundred reasons why you should lose this game and never really even be in it past the end of the first quarter.
They will tell you about the history of Chatard, they will point to all of their titles and all of their trophies, then they will say "and no one has beaten them this year" either and predict gloom and doom for all who are condemned to stand in their path.
Tippecanoe Valley … what are you going to do?
I say you accept that challenge — embrace it!
Look each other in the eye at practice on Monday and say "I don't believe we might, I believe we WILL!"
It's time for you to rise up as one Tippecanoe Valley Viking nation and say "we have what it takes and we're here to prove it."
It's time for you to stand and plant your flag against this team and say "we ARE Valley strong, and we will not retreat."
Go show them what it's like to be country tough. Show them the definition of grit.
You have made a believer out of me and every team you have faced this season. You certainly made a believer out of the people at West Lafayette, didn't you?
Now take that same attitude, that same determination on the bus and take the fight to them. I cannot guarantee anything except that this hill you are about to climb will not be surrendered. You will have to go take it. You will have to take their best punch, wipe the blood from your noses and quote the late Scott Bibler by smiling and saying "I'm still here, baby!"
Do that, all of that, together, and no one can stop you.
And keep this in mind: the entire class of 3A Football in Indiana is cheering for you. Think of them like all the tiny republics cheered when Luke Skywalker blew up the Death Star.
You supporters spanning from Lake Michigan to the Ohio River.
Go win on Friday, then take just a moment to dare to dream what that moment might be like.
Then go make it happen.