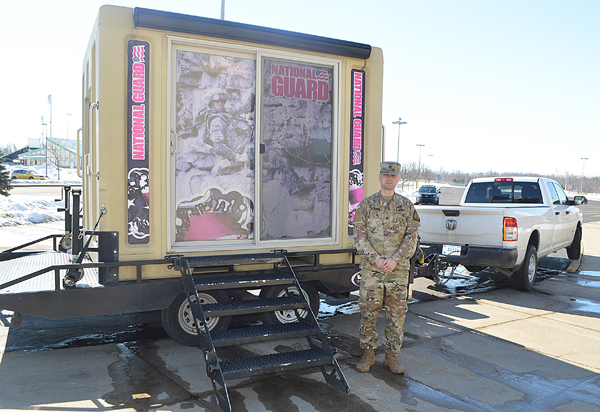 Instead of waiting for potential recruits to come to the Army National Guard office, Staff Sgt. Randy Jackson took the office to them this week.
For about 2-1/2 hours Tuesday, Jackson had the mobile recruiting office parked outside the Warsaw Community High School Performing Arts Center. On Thursday, from 4 to 6:30 p.m., it will be parked at Indiana Tech, 2928 Frontage Road, Warsaw.
Jackson said with the mobile recruiting office, "We can just hook it up to our truck and take it anywhere. This week the high school has allowed me to use the PAC during lunch, and on Thursday, Indiana Tech is allowing me to have it there for the public as well."
He said with the mobile recruiting office, "We're trying to show the community that we're still here and we can still engage and still be COVID friendly at the same time. Obviously, we're not allowed to set up inside the school just for the simple fact of COVID measures. It's hard to keep it safe at that point. So this puts a little more control on our end."
The mobile unit includes cabinetry, a television screen, a table and chairs. It's small enough to fit in about anywhere, but just big enough to be an office. This week was the first time Jackson was able to use the mobile recruiting office.
"We plan on having it at the fair this year," Jackson said. "We had to request it from the state. This is supplied through them and I had to request it. I have it for a few weeks, and then I have to send it back, but I'll have it back before the fair hits."
The Kosciusko County Fair is scheduled for July 11-17.
Jackson said recruiting for the National Guard is staying "pretty steady."
"Obviously, the beginning of the year was kind of shaky and nobody exactly knew what direction we were heading in, but just like anything else, we move forward and business has picked up pretty well," he said.
The Indiana National Guard armory is at 315 W. CR 350N, Warsaw. If someone wants more information about joining the Guard, they can contact Jackson by cell at 574-526-0537 or email at Randy.O.Jackson.mil@mail.mil.