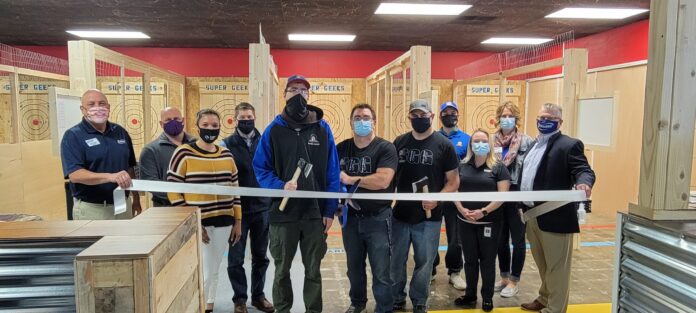 Super Geek Gaming on North Detroit Street in Warsaw has been switching up their business a bit.
The store known for having an eSports lounge with gaming PCs and consoles along with other hobby items has added in axe throwing lanes. Co-owner Rich Syndram says the change comes due to the COVID pandemic as the customer base who was typically playing the PC and console games no longer came in and it was becoming too expensive to keep things up to speed.
"It just didn't make sense anymore, we couldn't have the big tournaments. Unfortunately before the pandemic hit, we had colleges signed up to be partnered with us. Tournaments scheduled throughout the year, churches and youth groups coming in, and everything just canceled with us."
Syndram said he, along with Justin and Mike Syndram, did some research and found that people in Warsaw were getting involved in axe throwing. "We found out that everyone was going to Fort Wayne or Mishawaka and other places, so we're like, 'Alright, let's go axe throwing.' And we had eSports coming up first on our agenda and originally we were going to have axe throwing at a different location, but it just worked out this way."
So with the changes, the area that had all of the PCs and consoles is now a seven-lane axe throwing area. The cost for axe throwing for walk-in appointments is $25 per hour per person, while if you reserve in advance, it's $20 per hour per person. You can find more information here. A waiver has to be filled out before a person can participate, and that can also be filled out online.
The other big difference in the building is the disappearance of the arcade as Super Geeks cafe, called the Level Up Cafe, has also expanded and has started to feature more items.
"We specializing now it hot dogs and sliders and we're going to offer carry out and lunch specials." Their menu has a variety of different hot dogs and sliders, along with some drinks and desserts.
Those familiar with Super Geeks can still go inside and see the front area of the store continues to having classic and modern gaming items, along with Funko Pop figures, Dungeons and Dragons, Warhammer 40K, comic books and other collectables. They also have a room in the back with streaming capabilities for those who want to use the room for DnD or Warhammer. The table also features a big TV screen in the middle for those who want to use digital maps during their sessions.
Super Geeks will be hosting a re-grand opening on Saturday starting at 11 AM.