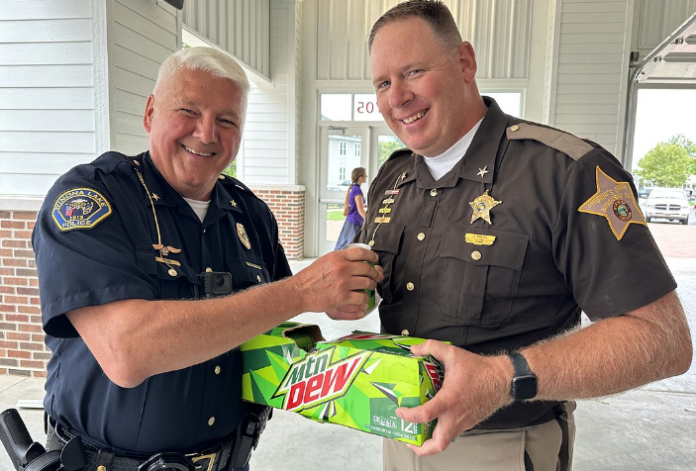 By David Slone
Times-Union
WINONA LAKE – Whether it was the Mountain Dew, free food or just the fact that it was one of the last summer activities before the start of school, more people showed up to the back-to-school cookout lunch Monday in Winona Lake than Police Chief Joe Hawn expected.
Monday was the third year for the "Jacked Up On Mountain Dew, Send Them Back To School Special," as Hawn calls it. "Who doesn't like Mountain Dew?"
It was moved to the Miller Sunset Pavilion from the park due to the on-again, off-again rain. The Winona Lake Police Department, Park Department and town put the cookout on together following the Winona Lake Family Festival, which was Saturday.
"It's actually after the Family Fest, and then we have some extra food, and three years ago they had a bunch of extra food and I was like, 'What are you guys going to do with that, all the extra food?' So, I was like, 'Why don't we just have an event on Monday to get rid of some of that food and have a community event?'" Hawn recalled.
"It's turned into this. I really thought it was going to be 50 to 100 people, maybe. And every year it's gotten bigger. This one, it just blew up this year, and I really thought it was going to be down because of the weather, I really did."
He said the Miller Sunset Pavilion was a nice facility to move the cookout to at the last moment. All the grills were moved to the pavilion. Social Ice Cream helped out, as well, by heating up the food left over from Saturday's Family Festival. Volunteers did all the grilling of the hamburgers and hot dogs, which were donated by SiteWorx.
"It's just really turned into a pretty big event. A lot bigger than I ever participated, ever," Hawn said.
He estimated 300-400 people came in and out of the event from 11 a.m. to 1 p.m. Monday. The leftovers from the Family Festival served at the cookout Monday included pulled pork sandwiches, mac & cheese, watermelon, ice cream, potato chips and cookies.
"We went out and purchased the Mountain Dew. We purchased the lemonade and stuff like that," Hawn said. Rabb Water Systems provided a water truck.
He said he only purchased 120 cans of Mountain Dew, but after the first hour that was down to just 10 cans so more had to be purchased.
"I got five cases. I thought five cases was an overkill, I was wrong. So I better – maybe not double it – but get seven or eight (cases) next year," Hawn said.
While the Family Festival was specifically for Winona Lake residents, Hawn said the cookout was for anybody and everybody. The Warsaw School System sent out an email to all of their families about it. He said he talked to students from Lakeland Christian Academy as well as Jefferson, Lincoln, Eisenhower and Madison elementary schools.
The peddle cars from Saturday's festival were left out for Monday's cookout for the kids to ride, too.
"I didn't know we would have to put this many tables up. We kept pushing them back, pushing them back a little bit. We had, literally, only 10 tables set up at the initial. I was way off! So we just kept putting tables up," Hawn said. "It's a good problem to have. I'm really excited. It's an event that kind of has blown up a little bit, it really has."
He said the best part about it was just seeing the kids' smiles.
"It's a really good event. It's that last something to do for the kids before they go back to school," Hawn said.Winona Lake Town Manager Craig Allebach said, "Today's event is probably our biggest. I don't know why, but I think a lot of it has to do with the location again. Fortunately, we were able to move the location pretty quickly and this was available, of course. So this has just been a great, great event."
While he didn't have the numbers for the previous years' events, he said he attended them and they weren't near what Monday's event was.
"I'm envisioning probably half of this. I would say easily the numbers this year have doubled. It's been really nice," Allebach said. "It helped us give away a little more of our free food from Saturday we had left over, plus, of course, we've got the hamburgers and hot dogs. But just a great event to kick off going back to school."