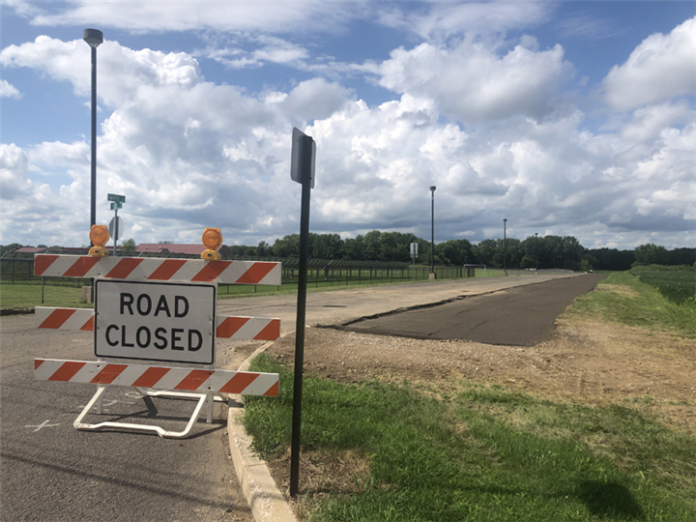 Residents of Belle Augusta voiced their concerns to the Warsaw Traffic Commission on Wednesday about speeding vehicles in the subdivision.
Linda Waltz said she and her husband would like to have some speed limit signs in Belle Augusta.
"There are 77 lots, probably 60 of the houses are done, but traffic is just ridiculous. I mean, they're going 40 miles per hour. It's not just the people who live there, but contractors coming in, delivery people," she said.
The Waltz live in this first block of the addition and she estimated 10 to 12 children live along that street.
"It's just difficult. We're afraid there's going to be an accident, and there's no speed limit signs and that would be a first step, I think, and then getting it enforced might be another step," Linda said.
They would like to see the speed limit set for 15 mph.
"And the way it is situated, there are a lot of curves. So even if we back out of our driveway, you're clear and then all of a sudden there they come again. So, it's not safe," she said.
Traffic Administrator Lance Grubbs asked her if any one road was more of a problem than others and if they were at the main entrance. She said they were at the main entrance, and it's the only main entrance.
"But we understand that they're going to add to the north of that between where we are now and Deed's Creek, and they tell us there's not going to be another entrance, which I find hard to believe. If there's not, that's going to just double the problem," she said.
City Planner Justin Taylor said another entrance is planned.
Warsaw Mayor Joe Thallemer asked if Belle Augusta had an active homeowners association. Linda said not yet so everything currently is coming from Ideal Construction in Decatur.
Warsaw Police Department Capt. Joel Beam said in Indiana, if a speed limit is not posted, it is 30 mph. He asked Linda if vehicles were going faster than that in the subdivision, and she stated they were. Beam said he could put speed signs up and see how fast vehicles are moving through the subdivision. Thallemer said the speed boards are a good reminder to motorists to slow down.
Street Superintendent Dustin Dillon said gathering data first on how fast vehicles are going in Belle Augusta was a good idea.
Thallemer said a speed limit sign should be posted at the subdivision entrance as a minimum step and a speed board might be a "good first step." Dillon said a speed limit sign would be posted at the tail end of next week.
Thallemer then gave the Commission an update on the railroad crossings.
"I would just mention that the railroad did come up with a temporary fix on the Center Street crossing. Temporary," he said.
He said Dillon got involved a bit in the conversation regarding the crossings at Pope and Main streets that the railroad company has not yet come up to address.
"We're still pushing for a permanent solution, so I would say there's a little bit of movement in the last month," Thallemer said.
Earlier in the meeting, Dillon noted that Dwight Drive by Eisenhower Elementary School and its vehicle stacking issue has come up at the Commission meetings quite a few times over the past year.
"We've been in the process the last two weeks of reconstructing a stacking lane, or a third lane, travel lane, there on Dwight Drive. The process is going well," Dillon said.
He said they were out paving Wednesday morning, and because of the expected rain delay Wednesday evening through Thursday, paving is scheduled to be completed Monday and Tuesday. The school will do some final prep on their end, he said, including the striping. The goal is to be finished by next Wednesday.
"That should allow that 45 to 50 cars range to stack onto Dwight Drive versus being out onto 200 South," he said, and parents will have to get used to using it.
He said the school is relocating its car reader to the north end "as you make the corner."
Beam said the school zone around Eisenhower is now 35 mph on 200 South and Ranch Road. A "no left-turn" in and out of Dwight Drive will still be maintained.
Council President Jack Wilhite asked Beam if he foresaw the "no left-turn" changing. Beam said it's a possibility, but the concern is that there is a little bit of a hill there and drivers really can't see the exit until they're on top of the hill.
"The 35 might help with that because it's slowing cars down," Beam said. "So, yes, there is a possibility."
Thallemer said, "We don't want anything more than the best from a safety standpoint for our schools. That's a tricky situation. We got very creative, but at the end of the day it makes perfect sense what we're doing."
At the end of the meeting, Beam said Warsaw Schools starts the 2022-23 school year on Aug. 15 and he encouraged motorists to be careful as kids will be walking and buses will be moving. Officers will be following buses and police will be patrolling school zones.
Dillon told the Commission that road striping crews will be working, with some of the areas being Argonne Road, Winona Avenue, South McKinley Street, East Jefferson Street, Frontage Road and Main Street. He asked drivers to be aware of the workers.