A person diagnosed with a mental illness in their 20s has an increased chance of dying 20 years younger than a peer.
Bowen Center hopes to help change that statistic with its new integrative care health clinic.
On Thursday, Bowen Center had a ribbon-cutting ceremony and open house to celebrate its Bowen Health Clinic co-located with its outpatient office at 850 N. Harrison St., Warsaw.
By conveniently offering primary health care, mental health care, addiction recovery treatment and behavior modification skills coaching services for patients under one roof, Bowen Center's goal is to help patients live their best lives longer, according to a provided news release.
Bowen Center originally opened Bowen Health Clinic in a separate building adjacent to the Warsaw outpatient office in 2020. It was Bowen Center's first primary care clinic and served as a pilot, according to the release. The Center now has primary care clinics, modeled after the original clinic, located within their mental health care services in Warsaw, Fort Wayne, Huntington, Wabash and Plymouth with more planned.
Michael Murphy, Bowen Center senior director, Kosciusko County, welcomed everyone to Thursday's ceremony.
"Thank you so much for being here and celebrating with us this ribbon-cutting for our Bowen Health Clinic. Integrated care has been on our heart, our mission for really our existence and we've done it a number of ways, and we're so excited to bring this opportunity to Warsaw and truly be integrated within this space," he said. "This gives us the ability to really meet the needs of the whole patient, and that's really what we want to do."
Dr. Rob Ryan, president and CEO of Bowen Center, said Bowen has been proud to be Kosciusko's community mental health center for over 60 years.
"We were started by local citizens who were concerned with the mental well-being of the community, of the Kosciusko County community. Here we are today, still run by a community board who's committed to the very same things. But today's opening is for something special – we're bringing a new service to town. And that service is total health," Ryan said.
There are two reasons Bowen is bringing total health here, he said.
"The first is, research shows us that if you have a mental illness diagnosed in your 20s, the chances are you'll die 20 years younger than a peer. So let that sink in for a second. In fact, let's make it more personal as most of us have someone in our families with a mental illness – your mother, your cousin, your father or maybe you. If you have that serious mental illness diagnosed in your 20s, you're going to die in your 60s rather than your 70s or 80s. That's just unacceptable in America today when we know we can do something about it," Ryan said.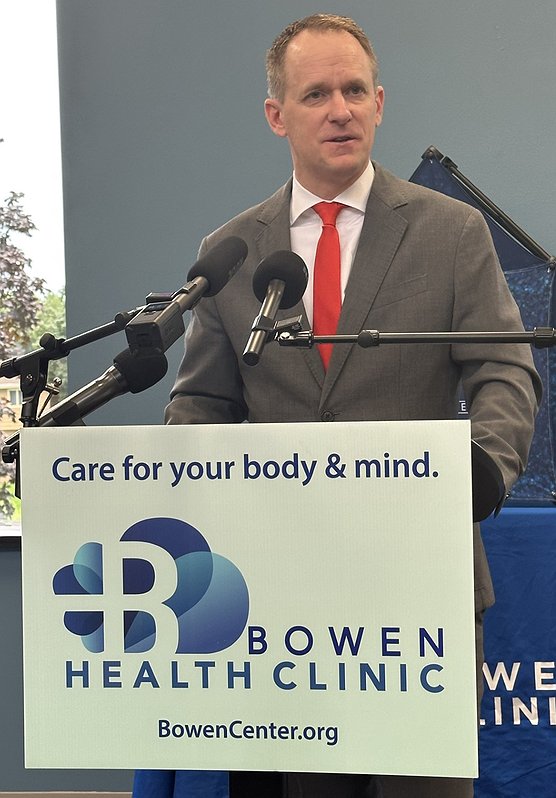 Bowen Center President and CEO Dr. Rob Ryan speaks at the ribbon-cutting ceremony Thursday for the Bowen Health Clinic co-located with its outpatient office at 850 N. Harrison St., Warsaw. Photo by David Slone, Times-Union
  
How does an integrated clinic do something about that?
"One, it increases access. Two, people who struggle with mental illness often have multiple chronic illnesses that are working together against and chewing away those years of quality life. By having a clinic that takes care of all those things together, it pushes back those years to a place where a person with mental illness will die at the average life expectancy, no less. And we want that for people here in Kosciusko County," Ryan stated.
The second reason Bowen Center is bringing total health care here, he continued, is that unfortunately mental illness still has a stigma attached to it and people may say they're embarrassed to seek help.
"Here's something that we know about stigma. If you want to get past stigma, you could put road signs up that say 'Mental Illness Is A Real Illness,' or you can meet people where they're at," Ryan said. "You know that 70% of psychiatric medications are prescribed not by psychologists here in the U.S., they're prescribed by primary care physicians. Why do you think that's the case?"
He said that's because people know their primary care physician by name and the primary care physician has that personal touch. The patient and the doctor have developed a personal relationship over time.
"So, we're moving into this because we want to create a place that people can feel comfortable, not embarrassed to come in, and share their challenges throughout their life. And we know that that will stop individuals living in silence with mental illness. So, this idea about providing something different is key," Ryan said.
Bowen Center wants to do what it's been doing for the last 62 years for another 62 years, he said, "But there's a 20-year-old today – who could be in this room, but more than likely lives in this community – that instead of dying at 60, they're going to live a full life with quality years, and that's something I'm proud to bring to this community," Ryan concluded.
Cindy Brady, Bowen Center Board of Directors member, said, "As we grow our integrated care footprint in Indiana, we are helping more patients find accessible healthcare for their body and their mind, no matter their ability to pay. I am so pleased that those living in Kosciusko County … will have access to this type of care."
At the Bowen Health Clinic, she said patients will find "affordable primary care. They will find mental health services. They will find addiction recovery services, and behavioral skills coaching that will help them live a better life longer."
Tera Yoder, Bowen Center, director, Kosciusko County, said, "This has truly been a journey. From the idea of providing physical healthcare to our first appointment in the building next door, to having a truly fully integrated space for our patients, it's just simply amazing."
She thanked those who made the Health Clinic possible, including staff, community partners and the patients.
Kosciusko Chamber of Commerce President and CEO Rob Parker thanked the Bowen Center Board of Directors for making the decision "toward moving to a positive outcome for so many individuals to improve healthcare outcomes for our community."
He also stated, "This ribbon-cutting today celebrates a new model of integrative care for our community and, just as important, this provides another access, another quality healthcare access point for members of our community, especially those who may not have access to what we call commercial care. … So thank you for taking that step forward to helping those who are most underserved in our community. We appreciate that."
After the ribbon-cutting and speeches, tours were given of the facilities by Murphy and Yoder.
"Prior to March, this looked very different, and so we really wanted to embrace the fully integrative care," Yoder said as a tour began. "So the building next door, we were providing some psychiatric care with our physical health team, but it truly wasn't integrative. And what we found was, even if it's a parking lot away, it's a barrier for patients."
The new health clinic co-located with the outpatient office was started to remedy the barrier.
"We gutted this side, and what you'll find is all the way down these halls are physical health offices," she said.
Showing one of the physical health rooms, Yoder said, "One of the things we really, really wanted to hit really well was that when people come in here, this space showed them that we cared about providing quality care."
At the nurses' station is all of the staff, physical and mental health, as it is a shared space. They work closely together to find the source of a patient's troubles and possibly avoid having to refer the patient to somewhere else.
In total, there's a full-service lab, bathroom, seven physical health rooms and eight psychiatric rooms including a bariatrics room. The bariatrics room helps ensure that there's a space where anyone who comes to the health clinic can have their needs met.
On the clinic's busiest days, they're probably seeing 300-400 people. Tuesdays through Thursdays are some of the busiest days, Yoder said.
"Our team does a phenomenal job balancing needs. They're always hopping to make sure patients get whatever they need," she said.
As the clinic grows, necessitating a need for more room, Yoder said, "We have some really cool things coming in the future and we are really, really excited about how we are going to tackle that, that continuous growth of patient need and ensuring we have the space to do it."
Bowen Health Clinic welcomes Medicaid, and no one is turned away for an inability to pay. To make an appointment, call 888-470-0082.