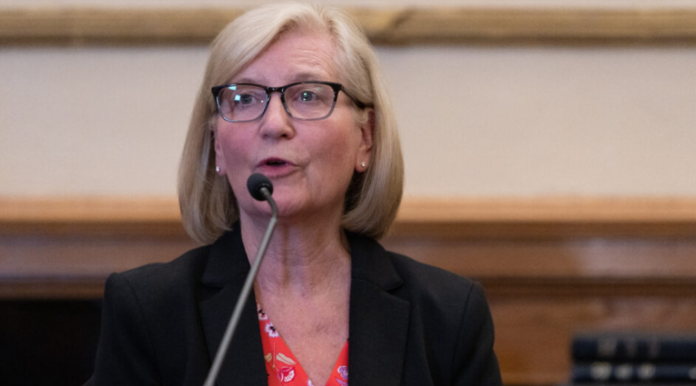 By Whitney Downard
Indiana Capital Chronicle
INDIANAPOLIS — After more than five years leading the Indiana Department of Health and playing a pivotal role during the COVID-19 pandemic, Dr. Kristina Box will retire as state health commissioner.
Box appeared on near-daily press conferences at the height of the pandemic, frequently alongside Gov. Eric Holcomb and a panel of other state leaders that included Dr. Lindsay Weaver. Weaver, the chief medical officer for the agency, will step into Box's role on June 1.
Holcomb thanked Box for her tenure, saying her retirement discussions started nearly a year ago but she agreed to stay in order to push several healthcare measures through the General Assembly, specifically securing the state's $225 million two-year investment into public health.
"I respect no one more and am so pleased she'll get to enjoy her next chapter, which is focusing on her family.  I could not have had a better partner in this role, especially in this time. She genuinely cares about the health and well-being of every single Hoosier, and because of her dedication to the betterment of our overall public health system, the state is at the forefront of transformational change that will result in a healthier Indiana," Holcomb said.
"… Her competitive refusal to lose is a key reason why our state will win for years to come."
A news release detailed Box's accomplishments with the department, such as the Governor's Public Health Commission and My Health Baby. A trained OB-GYN, Box sought to address the state's dismal infant and maternal mortality rate
"It has been the greatest honor of my professional life to serve this administration, the Indiana Department of Health and Hoosiers across the state," Box said. "The past five and a half years have been filled with challenges and opportunities unlike any that public health has ever encountered, and the public health workforce across the state has met those challenges with a heart and determination that have inspired me every day. I am incredibly proud of the work being done and will forever be grateful to those who continue to make improving the health and wellbeing of Hoosiers a priority."
During the COVID-19 pandemic, Weaver oversaw the state's lab testing network and distribution of COVID-19 vaccines. Holcomb praised Box and Weaver for working together through the health commissioner transition.
"Having worked closely with Dr. Weaver over the years, I know she too is committed to continuing our important work of assuring Hoosiers have awareness and access to public health services," Holcomb said. "As the chief medical officer, she has shown the prerequisite character, patience and leadership skills needed as she helped manage our state through the COVID-19 pandemic and, more recently, collaborating with local health partners, community leaders and legislators to begin the implementation phase of our massively upgraded public health plan. This transfer of authority will truly be a seamless transition."
Weaver continues to practice medicine at Methodist Hospital in Indianapolis as well as teaching as an assistant professor of clinical emergency medicine at the Indiana University School of Medicine.
"Taking over the position of state health commissioner from Dr. Box is an enormous responsibility, and it is an honor to follow in her footsteps," Weaver said. "Dr. Box has provided exceptional leadership during the past six years and her commitment to public health has been an inspiration to many. I look forward to building on her legacy, implementing the recommendations of the Governor's Public Health Commission, and continuing to work toward a healthier Indiana.
Box formally retires on May 31.
* * *
The Indiana Capital Chronicle is an independent, nonprofit news organization dedicated to giving Hoosiers a comprehensive look inside state government, policy and elections. The site combines daily coverage with in-depth scrutiny, political awareness and insightful commentary.
You can read the original version of the story here.