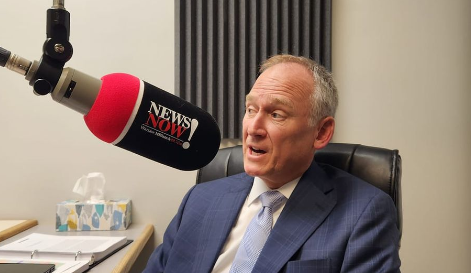 By Dan Spalding

News Now Warsaw
WARSAW – Indiana's new two-year state budget includes tens of millions of dollars earmarked for Warsaw.
Warsaw State Rep. Craig Snow, first elected to the statehouse three years ago, was able to line up the money to strengthen the orthopedic industry and cover immediate costs associated with taxiway improvements at the Warsaw municipal airport.
Snow told News Now Warsaw on Thursday that he secured $30 million for the purpose of retaining and attracting jobs for the orthopedic industry and another $3 million set aside for the municipal airport.
The $30 million will go to OrthoWorx, which works to boost the local medical device field.
The money won't go to orthopedic companies, but will instead be used for quality-of-life projects, Snow said.
"Thirty million dollars will come to Warsaw in various projects in the community," Snow said. "A group of us have been meeting, working on what those projects will be."
Given the broad definition of quality-of-life projects, that could include housing and transportation and recreation, among others.
"I can't even guess what that might entail as we move forward," said Mayor Joe Thallemer. "We're obviously really, really ecstatic about it."
Thallemer said there's never been such a large of state money dedicated to the city during his nearly three decades of public service.
The money was lined up in the final days of the General Assembly's session and undoubtedly represents the biggest amount of state money ever sent directly to the city.
"There is obviously a whole lot more opportunity today than there was a week ago before it was passed," Thallemer said.
Snow said he's working to line up more money for orthopedics.
He said he wants to leverage the state money to win federal funding. He plans to visit U.S. Sen. Todd Young next week to discuss whether federal funding could be made available.
Snow made it clear when first elected that his goal was to somehow see money set aside for the community to boost economic development He said he was able to do it through growing connections in state government and his work with State Sen. Ryan Mishler, who chairs the Senate Appropriations Committee.
"We're looking at it as an investment in a resource we don't want to lose," Snow said. "The orthopedic capital of the world, it's a $56 billion industry worldwide. Warsaw – little Warsaw– is responsible for over half of that and we should be proud of that."
"One of the messages I've sent down to the state house is, 'Look, I applaud your efforts to go and try to get new businesses to come to the state, but don't neglect the industry that's been here for over 127 years," Snow said.
Snow said the airport money includes $2 million in the state budget and another $1 million or so from the Indiana Economic Development Corporation in matching support.
Thallemer said he was recently asked what would be the most pressing needs of the airport that state money could help.
The announcement comes just weeks after Kosciusko County Council shelved a request by the city to establish an airport authority that is seen by many as a key to addressing funding needs for a list of pressing long-term projects for the airport.
In a presentation to the county council in April, the city outlined roughly $46  million needed for airport projects over the next ten years.
Thallemer gives Snow much of the credit for the big financial haul.
"It's truly an advocacy that he has taken up since the day he went down there. He told me before that's the reason he's there," Thallmer said. "I'd say To Craig goes the credit."
Thallemer said the state money for the airport represents "a good start on the projects, but said it does not negate the need for an airport authority.
"Certainly, this will help. It's an immediate infusion for a current project, which will be great. But it's one of many, many projects that we've got," he said.
Snow made the comments during a taping of News Now Warsaw's public affairs show, In The Know.
You can hear the entire show at the following times on air.
News Now Warsaw (99.7 FM and 1480 AM):
Fridays at 9 .m.
Saturdays at 7 a.m. 
Sundays at 7 a.m. & 2 p.m.
WRSW (107.3):
Sundays at 6 a.m.
Willie (103.5 FM):
Sundays at 6 a.m.