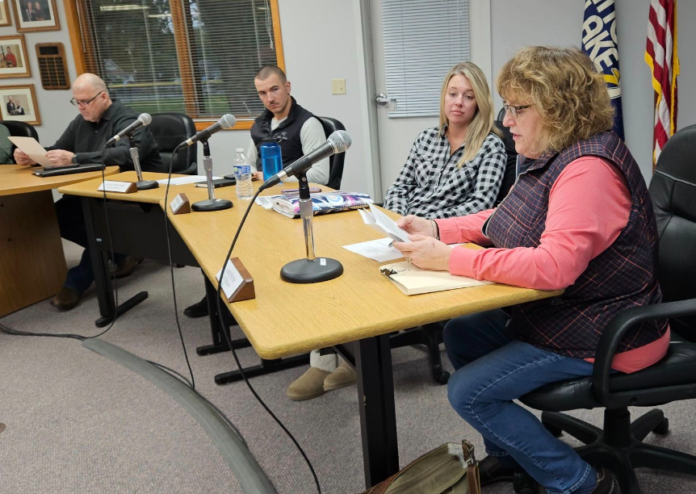 By Dan Spalding
News Now Warsaw
WINONA LAKE — Clerk-Treasurer Laurie Renier and two employees in the clerk's office abruptly resigned Tuesday night, ending months of acrimony between Renier and town council members.
The resignations came at the start of a public hearing for the 2024 budget when Renier spoke up and said she wanted to make an announcement.
Despite on-going tensions with council and others, Renier said Tuesday she had  committed to remain in office during a state audit.
She said she had been informed that the audit was "still nowhere near completion," but that a "substantial completion of the on-site portion" of the auditing procedures had been reached.
"I have therefore fulfilled my obligations by being present and providing them with the documentation they requested," Renier told council.
She then continued reading a five-page resignation letter that outlined 13 problematic issues she encountered after arriving in office shortly after the death of clerk-treasurer Kent Adams in December of 2021.
She also addressed what she called "a lack of support and the hostility toward myself and my staff" that had carried over to other department, town residents and the media, which she said made it "nearly impossible to serve the community."
She concluded by saying her resignation was effective immediately and was then joined by Chief Deputy Teena Pence and Utility Clerk Cindy Justice in announcing they were also quitting immediately.
Town officials had no comment as they left the council chambers and had no comment after the brief budget meeting concluded.
As the three left the building, they also took down their portraits that hung in the hallway that were part of a collection of town employees.
A fourth worker employed in the office did not attend the meeting and it was unclear if she intends continue working for the town.
Renier told News Now Warsaw afterward she planned to contact the Kosciusko County Republican Party, the county clerk of the court and the state board of accounts.
The Republican Party will now have to choose a replacement to fill out the remaining ten weeks of Renier's term in office.
Renier lost in the May primary to Heather James, who currently serves on town council.
For several months, council questioned Renier's work practices and complained that not all bills or payroll checks were issued in a prompt manner.
Renier defended her work at times in recent months, but also admitted that she and some of her staff struggled with some of the duties, in part because of a lack of familiarity with office procedures as well as the resignation of a deputy at the tail end of the year when bookkeeping for the new year was just beginning.
Council, she said, "did not hesitate to call me out at every public meetings for all the things I didn't know."
She also reminded council that she had reached out and received help from a software company and other professionals and "spent countless hours researching and teaching ourselves how to do our jobs."
"As we received the help we asked for, it quickly became clear there was not much in the office being done correctly. At every turn, we not only needed to learn how to do things the right way, but we had to find the way to correct what was wrong," she said.
Renier chose to not work with council in its preparation of the 2024 and council created a committee to help prepare the new budget, which turned out to be a mirror copy of the 2023 budget.
On Tuesday, Renier explained, she did not feel her input in budget preparation would be of much benefit. "I realize that was misinterpreted as an unwillingness to participate," she said.