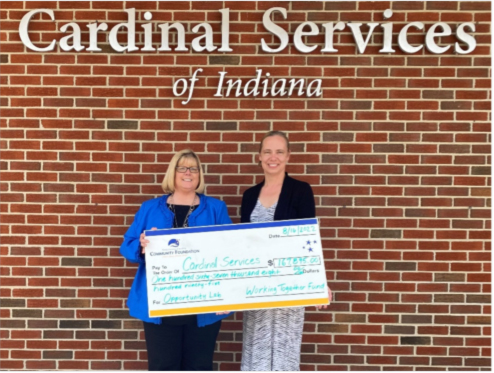 Cardinal Services was recently awarded a $167,895 grant through the Kosciusko County Community Foundation's Working Together Fund for equipment and operational expenses related to Cardinal Services' new Opportunity Lab.
The Working Together Fund was established with a $4.3 million grant to the Community Foundation from Lilly Endowment Inc., according to a news release from Cardinal Services.
Working Together is a four-pillar initiative aimed at increasing participation in the Kosciusko County workforce and attracting and retaining talent. The four pillars of Working Together are 1) workforce housing, 2) child care, 3) workforce training and 4) talent attraction and retention. Together, the pillars nurture a healthy workforce that will enable employers to remain in our community while also attracting new employers, stated the release.
In designing the current renovations to Cardinal's main building, a 3,000-square-foot Opportunity Lab was a primary part of the plan. The purpose of the Opportunity Lab will be to train potential workers with the skills they will need in the fields of manufacturing, health care and hospitality. These fields have been identified as the three areas in which there is the greatest need for employees in Kosciusko County.
Cardinal Executive Director Vickie Lootens points out that Cardinal is not waiting for construction to be completed to start the important work of the labs. The manufacturing lab is underway as Cardinal is already in the planning process with manufacturing business partners. A certified nursing assistant (CNA) training is due to begin in the fall, and equipment for the hospitality and health care labs has been ordered and will be in place shortly.
"Stable employment is the linchpin of success for all citizens," said Lootens. "It is our goal at Cardinal Services to assure that everyone who wants to work, can be trained and get a job, and grow as a valued member in our community."