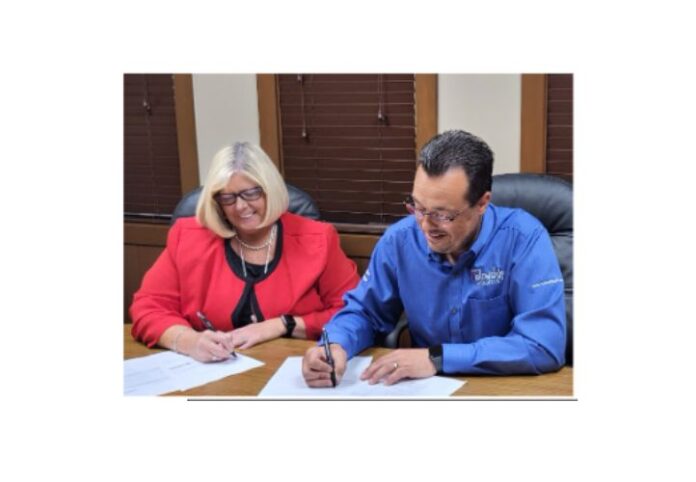 News Release
WARSAW — Cardinal Services announced Tuesday that it has officially gifted the
old Jomac building at 1624 E. Winona Avenue to Fellowship Missions.
Cardinal engaged in numerous discussions with Fellowship Missions, which conveyed their aspiration to broaden and enhance their range of services. The discussions culminated in a strong partnership and an agreement between the two local non-profits to enhance the Winona Avenue corridor by undertaking a cleanup project.
According to Eric Lane, Director of Fellowship Missions, their plans to expand include family
housing, and employment assistance.
"Currently, if Dad comes in with his family, he must stay in another location, which has a negative long-term impact on the family. By keeping them together, we hope to strengthen that family going forward."
Executive Director of Cardinal Services, Vickie Lootens and Eric Lane, Director of Fellowship Missions, signed the official paperwork recently marking the gifting of the Jomac building from Cardinal Services to Fellowship Missions.
"Cardinal Services is happy that we have been able to create this wonderful partnership
with Fellowship Missions and make this happen," said Vickie Lootens, Executive Director of
Cardinal Services. "We have a strong and growing relationship with Fellowship Missions. In
fact, several people who participate in our programs also volunteer at Fellowship Missions.
This is a highly valued partnership."
Lootens went on to add that Cardinal and Fellowship Missions will grow their collaborative
efforts in the employment arena, where Cardinal already has a robust workforce development program that assists individuals with disabilities in finding gainful employment
in our community.
Meanwhile, Cardinal Services continues the renovation of its building across the street from
Jomac and Fellowship Missions, at 504 North Bay Drive. This week, the long-awaited steel
beams arrived for the new addition, meaning that the new construction part of the
renovation will now begin. Renovations inside the building have been ongoing for nearly a
year, with services continuing uninterrupted. The project is on schedule for completion next
summer.