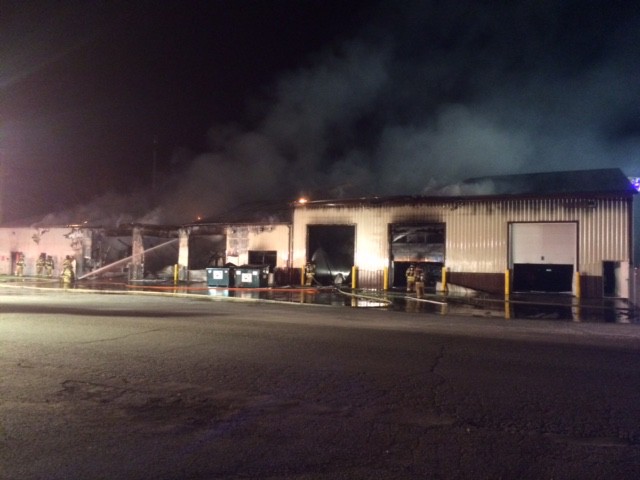 The cause of a fire Jan. 7 that destroyed the Warsaw Community Schools bus garage is still under investigation, but officials now think it may have been accidental.
"We've had private investigators that came in and worked with Warsaw Fire Department and Fire Marshal Joe Fretz," Late Friday morning, Warsaw-Wayne Township Fire Chief Mike Wilson said.
"They did remove some items of concern that were electrical in nature and took them back to a private lab for further testing. As of this month, we still do not have a final cause as to the ignition point of the fire that consumed the bus garage," he said.
He said the area of concern was an area between the mechanical area of the garage and the office space in the garage.
"All the fire started on the mechanical side of that wall," Wilson said. "If we get further information, we will create another release and let you know at that time."
Asked if the fire was suspicious in nature, Wilson replied, "At this point, with the alarm system and the witness information, we feel the building was secure and the fire originated when the building was secure. There does not appear to be any illegal event, any strange activity, anything to go along with that. It's appearing to be an accidental fire and probable cause is electrical in nature, but we're still waiting on the final determination from those private investigators."
The fire broke out at the district bus garage at 5:47 a.m. Jan. 7, according to a Times-Union story that day. Two WCS employees reported to the bus garage at 350 E. CR 200N at 5:45 a.m., entered the building and heard the fire alarm. The employees then exited the building and saw flames burning through the roof. They immediately called Warsaw Fire Department.
The original damage estimate for the fire to the bus garage was about $3 million. Along with the building, WCS lost two specialized buses with lifts. Five other buses, tools and a shop truck were also damaged.
In an email Friday, WCS Superintendent Dr. David Hoffert said the school corporation is in the final design stage for a new bus garage and will soon begin the  bidding process for construction.
"We will be replacing (it) on the same site as before. Our target date is the start of 2017," Hoffert said.