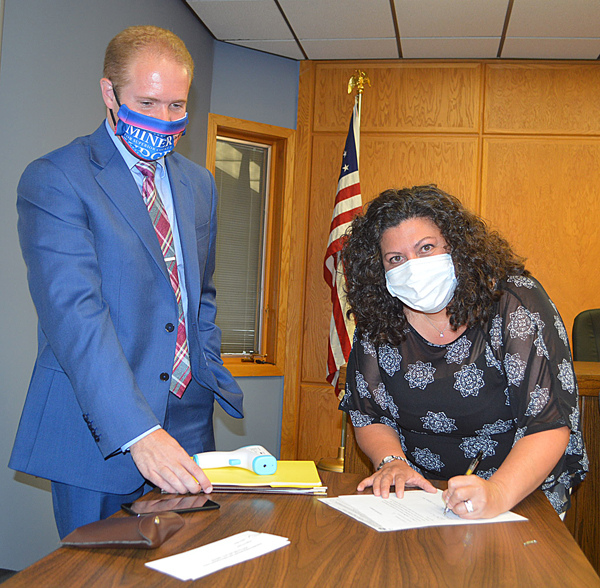 A 23-year employee of the town of Syracuse is its new clerk-treasurer.
Virginia A. Cazier, 50, persuaded four precinct committeewomen at the Republican caucus Thursday evening to appoint her to the position over Julie A. Kline, 70, who served as clerk-treasurer from 2003 to 2015 before retiring.
Cazier will replace and finish out the current term of Clerk-Treasurer Paula E. Kehr-Wicker, effective Sept. 27. Kehr-Wicker, who won re-election in 2019, announced her resignation Aug. 5. Cazier sought the position in the Republican primary in 2019, but was defeated then by Kehr-Wicker.
Cazier received the majority of the four votes on the first try, preventing a tie-breaker or GOP Chairman Mike Ragan from having to cast a tie-breaking vote. The four precinct committeewomen who cast their votes were Kimberly Cates, Karin McGrath, Sylvia Gargett and Karen Grady from Turkey Creek precincts 2-5, respectively.
Each candidate was given three minutes to speak before the vote and could have a spokesperson introduce them.
Cazier, who did not have a person introduce her, said she has lived in the Syracuse area the majority of her life. She's married to Joe, with whom she has a blended family of three adult children and a baby with a grandbaby on the way.
"For over 23 years, I have been a loyal and dedicated employee of the town of Syracuse and assistant to the public works director, and most recently added more responsibility as an assistant to the town manager," she said.
Cazier said she's gained experience in processing claims, invoicing, helping with payroll, permits, budgeting, monthly reports, grant writing "just to name a few of the many things that I do."
"As well as being a loyal employee, and a resident of the town of Syracuse, I've dedicated numerous amounts of time volunteering in our community," she said, including Tree Board among others.
"I believe in serving and supporting and giving back to our community," Cazier said.
Ready for a new challenge, she said she's driven, ambitious, eager to learn, organized and wants more for herself and her community.
"I know this position comes with instructions. With available resources provided, combined with my previous experience, I know I will succeed," Cazier said.
Not only will she finish out Kehr-Wicker's current term, but she said she also will "finish out the next four terms, if elected."
Kehr-Wicker introduced Kline, who went first as she submitted her candidacy form first.
"It's my honor to introduce you to not only my mentor but also my friend, Julie Kline," she said. "She previously devoted over 26 years in the clerk's office until her retirement at the end of her third term as clerk-treasurer in 2015, in which I took over."
Kehr-Wicker said she believed it was a blessing and an asset to the town that Kline was willing to come out of retirement and fulfill the remainder of her term.
"I don't know of anyone who is more knowledgeable and experienced than Julie Kline," she said.
Kline said she worked in the clerk's office for 26 years, 14 years as deputy clerk and 12 as the clerk-treasurer. When she was clerk, she said she had a good working relationship with the town council, town employees and the public.
"The clerk-treasurer has many duties, including budgets, payroll, utility billing, federal and state reporting requirements, just to name a few. I'm familiar with the requirements of the position and am prepared to complete the duties in an accurate and timely manner. If I am appointed, I feel the town of Syracuse will have a smoother transition to a new clerk after Paula's departure. I really enjoyed my job when I was the clerk-treasurer and I pledged to do my best to serve the citizens of the town of Syracuse," Kline said.
After the caucus, Cazier said that from now until the 27th, she and Town Manager Mike Noe will be looking for her replacement as Noe's administrative assistant. She said Kline was being trained as a consultant for the town so Kline will be training Cazier and "she will be with us for a while."
Cazier said she wanted to cry after winning because she was so happy. When her office was moved to the town hall a year ago, she said she became closer to the women in the clerk's office and it surprised everyone when Kehr-Wicker announced she was leaving.