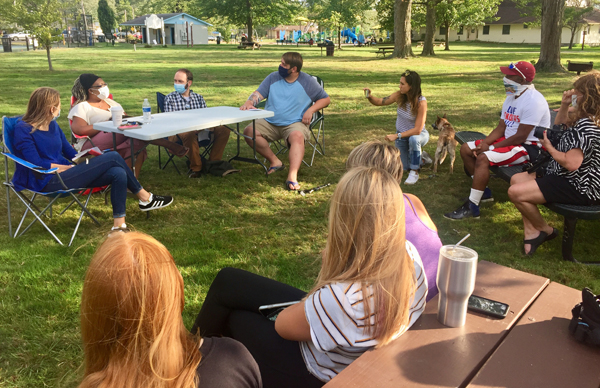 One Warsaw started the first of many "Be Kind Talks" that focus on racism and anti-racism Thursday.
The panel discussion in Winona Lake's Limitless Park drew a dozen people and was led by Jonna Watson, who has a master's degree in psychology; Sara Strahan, a local person of color; Andrew Morton, associate pastor at Warsaw Evangelical Presbyterian Church; and Travis McConnell, with One Warsaw.
Honest discussion about racism and how those honest discussions can continue was the point of the Be Kind Talk Thursday.
Strahan said part of the problem is people's egos get in the way when it comes to being able to talk about racism.
"We need empathy, we need understanding in this country," she said. Watson echoed Strahan's sentiments and said when a person can't put the ego aside, it becomes problematic in any relationship or conversation.
"It's a hard thing to do," Watson said.
For Morton, it's about meeting people at their individual starting points in their journey and to understand where they're at and why they're at that point.
"Some people, it hasn't been brought to the forefront for them yet," Morton said of living in a not-very-diverse community. "They haven't had to address it."
Morton said humility is how he believes the community can push through the current climate of the world.
McConnell said One Warsaw believes that not being racist isn't enough – a person needs to be anti-racism.
Strahan said anti-racism to her is to be accepting of all people and learning how to not judge people.
"When you focus on someone based on who they are as a person … they become human, because they are human," Strahan said.
Morton said for him it begins with asking himself the hard questions and lamenting the ways that he has benefitted from systemic racism and being willing to address that. Morton also acknowledged what he calls systemic racism in churches and congregations. He said in 2020, Sunday mornings are still one of the most segregated times in America.
He's trying to do his part by having individual conversations with people and also connecting them to other voices, he said.
Strahan encourages the community to be mindful of how they speak to each other.
"It's OK for each and every single one of us to be different in how we view the world," she said. "But be mindful."
"I'm sorry for the way that the church has failed to listen in the past and contributed to this," Morton said. "The time has come for us to enter the conversation. As people of faith, it's time for us to be all in in advancing this conversation."
Strahan also noted to the crowd present – and those watching on One Warsaw's Facebook Live – that anyone who experiences racism in the workplace has options to stand up for themselves, including reaching out to the Metro Human Resources network in Fort Wayne.
"They will take your case," she said.
One Warsaw's first episode of the Be Kind Talks went well, McConnell said after the event.
Three more are planned around the county. They are: from noon to 1 p.m. Sept. 22 in Syracuse, with the location to be decided; from 1 to 2 p.m. Oct. 18 in Silver Lake, with the location to be decided; and Nov. 23 in Warsaw, with the location to be decided.
To learn more about One Warsaw, visit www.onewarsaw.org.