Organizers from the Kosciusko County Democrats hosted a "Charlottesville Solidarity Vigil" at the Kosciusko County Courthouse Monday night.
What was purported as a non-partisan vigil honoring Heather Heyer, a woman who was killed when a car drove into her and other counter-protesters during the Charlottesville rally, turned into an opportunity for community members to have their voices heard.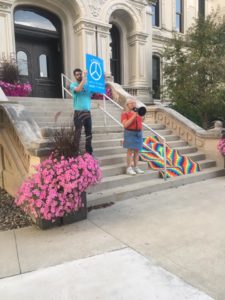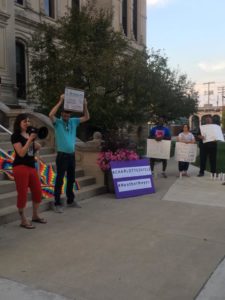 One at a time, several Kosciusko County residents got up and spoke into a megaphone, sharing their experiences with hate and racism. Most shared a message of unity and hope for Warsaw, denouncing violence and hate groups.
Though the majority of the vigil was without incident, one woman who identified herself as a disabled veteran lifted her shirt to show a concealed carry handgun in her waistband.
She had a question for white supremacists in the community.
"I want to know where they're at– where are these people that are supposed to be intimidating us?" she asked the crowd. "I don't see any Grand Dragon, I don't see Tom [Metzger] anywhere."
After that, a few other speakers mentioned Metzger, a Warsaw resident known to be a white supremacist, by name.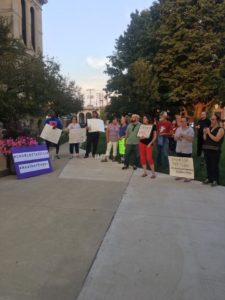 Still, most spoke from the heart, expressing an interest in protecting minorities in the Warsaw community.
"Warsaw is united," said one speaker, met by applause from the approximately 75 people in attendance.
Activism was also a theme for many speakers.
"Tell your friends, tell them you were here, tell them what you stood for," another speaker said.
"Enough is enough– this is 2017, we're not going to take it anymore– tell somebody, don't be afraid. Post it on Facebook, post it on Instagram, Tweet it, because this is where change happens– right here."
An organizer for the event called for faith leaders in the community to get involved in the movement as well.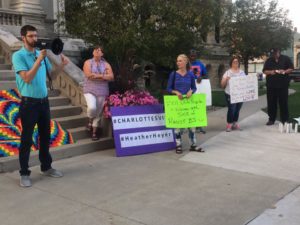 "When you go to your church on Sunday, ask your pastor where he was today," she said. "I would like to see more people of faith out here practicing what they preach– and that's not an admonishment– that's a challenge."
Attendees ranged in age from children to senior citizens.
The vigil ended with a prayer for Heather Heyer and a candle-lit walk around the square in downtown Warsaw, followed by the singing of "This Land is Your Land".