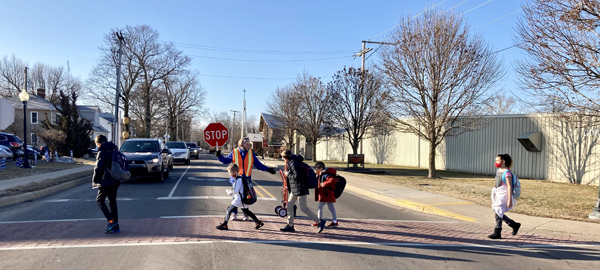 Christine Koontz loves her job and her kids as a crossing guard at Jefferson Elementary School in Winona Lake.
Koontz said when her youngest child was in sixth grade, she noticed there wasn't a crossing guard at Jefferson. She later inquired about the position and wondered if the school would get a new one. She was told the school didn't know when Jefferson would get a new crossing guard because, at that time, it was a volunteer position, unless Koontz wanted to volunteer for the position.
"I didn't think it would turn out to be as long-term as it's been," Koontz said, noting she is in her 10th year.
She realized she liked doing the job and being with the students.
"Also, the longer I did it, I felt like, you know, this is something God's really gifted me to do. So it's kind of become a ministry, too, in a way, just to be able to share God's love to other people and be an encouragement and come along side the school and the teachers and the community and help kids be safe, and other people who walk through the crosswalk," Koontz said.
Koontz said in her situation, she also thinks it's important to learn all the kids' name and get to know them.
"I tried to learn all their names throughout the school year," she said. She does this because it lets them know they are important and valued and she can have some form of connection with them. She also can use the student's name when she needs to get his or her attention. She said it builds a level of trust between the students and the crossing guards.
Koontz is not the only crossing guard for an area school corporation.
According to Dr. David Robertson, Warsaw Community Schools assistant superintendent for elementary schools, there are 88 people trained to be crossing guards, with training coming through the Warsaw Police Department.
Wawasee Community School Corporation has two crossing guards with a position open for another.
Syracuse Police Chief Jim Layne said there are two crossings at the Syracuse school compound and has a crossing guard covering the cross walk in front of Syracuse Elementary, with the crosswalk near Main Street and CR 1300N needing a crossing guard.
Milford Town Marshal Derek Kreider said there is a crossing guard at Milford School, who is employed through the town.
At Akron and Mentone elementary schools, Tippecanoe Valley School Corporation doesn't have formal crossing guards, but for student safety, TVSC has between three and 12 adults supervising all students at arrival and 10 to 12 for dismissal each day, said Lori Tilden-Geiger, director of marketing, public relations and grants. TVSC also has supervision at the middle school/high school parent drop-off and pick-up lines.
Every August, the crossing guards for WCS get trained and they are approved by the Warsaw School Board and Warsaw Traffic Commission, Robertson said. Robertson said the training covers the basics of how to do the job.
Koontz said the training is needed. When she first started, she had to learn what to do on her own and has been taught things during the training.
With the exception of Koontz, Robertson said, WCS staff are asked to be crossing guards for the remainder of WCS' crossings.
For Wawasee's Syracuse compound, Layne said the crossing guards are town employees and not employees of the school. He said people interested in the position have to be at least 18, fill out an application and go through a background check.
As far as training, the Syracuse Police Department takes the crossing guard to the intersection they will be working and talks to them about the traffic they will be seeing.
Mindy Dukes, crossing guard at Milford School, has been the crossing guard at Milford since her son was in sixth grade. He is now a junior in high school. She said she applied for the position at Milford Town Hall and interviewed with then-Town Marshal Rich Miotto.
Dukes said her training compromised of talking with Miotto of how the job needed to be handled.
Crossing guards wait on one side of the street. When a student gets to the crosswalk, they know to wait for the crossing guard to go out and stop traffic. The student then walks out into the crosswalk. The guard then waits until the students are finished crossing before going back, Robertson said.
Dukes, Robertson and Layne said equipment such as safety vests are provided to the crossing guards.
Mark Fick, WCS director of transportation, and Robertson said the benefits of having crossing guards is safety.
Koontz said having crossing guards is needed, especially in high-traffic areas. It makes the parents feel safer and allows them to have more confidence in what the school is doing. It also allows drivers to remember where the school zones are.
Layne said crossing guards help with traffic control.
Dukes said with her position, she occasionally has to work the school administration to give students reminders about crossing where they are supposed to. She said she thinks the students think they are paying attention and doing what they need to do for themselves, but drivers may not always paying attention.
"We all want students to get to school safely," Robertson said.