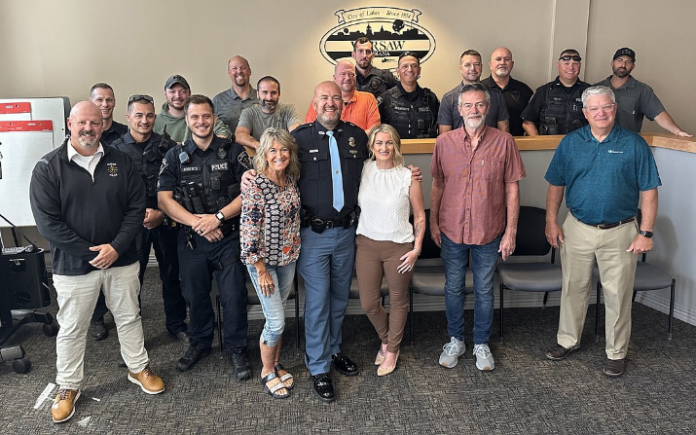 By David Slone
Times-Union
WARSAW — An officer with an extensive history in law enforcement and firefighting took his ceremonial oath of office as a Warsaw Police Department officer Friday at the Board of Public Works and Safety meeting.
Chris Francis received his ceremonial oath from Warsaw Mayor Joe Thallemer after successfully completing the state-mandated one-year probationary period for a new hire. Francis officially was hired by WPD on Sept. 4, 2022, according to a news release provided by the WPD after the ceremony.
Before giving Francis the oath, Thallemer said it was always a pleasure and an honor to be able to give the oath.
"Chris has done a great job for the city and (I'm) really honored and excited to be able to call him up and give him the oath of office," Thallemer said.
After Francis took the oath and signed the paperwork, Thallemer asked him if he had anything he'd like to say.
"Thank you. I love all these guys, it's great. That's what I have to say," Francis said.
He previously worked 16 years as a full-time deputy for the Kosciusko County Sheriff's Office, where he held the rank of sergeant and was assigned as public information officer. He spent the previous two years as a jail officer.
Francis received a degree in criminal justice from Indiana/Purdue University Fort Wayne. He is also a volunteer firefighter for Tippecanoe Township Fire Territory and he is the Tippecanoe Township trustee.
Francis received the Firefighter of the Year in 2013, the fire chief's Appreciation Award in 2017 and was selected as the 2021 North Webster-Tippecanoe Township Chamber of Commerce Person of the Year, according to the news release.
WPD Chief Scott Whitaker added, "Officer Francis was a welcome addition to our department, as he has brought extensive law enforcement experience and knowledge to our patrol division. Francis' desire to serve our community is apparent, by both past success and his commitment to our department. We look forward to seeing his success in phase two of his law enforcement career."