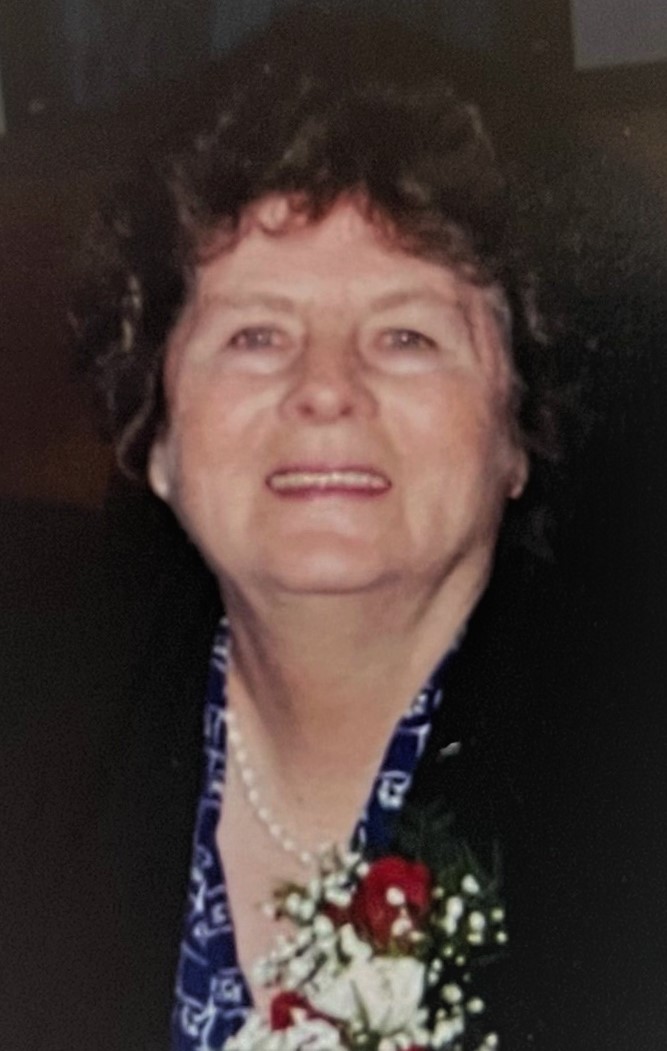 Geraldine "Gerry" Manns of Claypool, Indiana went home to be with her Lord and Savior at 1:08 p.m. on Saturday, May 28, 2022 at Mason's Health Care Center in Warsaw, Indiana at the age of 89.
She was born on August 25, 1932 in Half Mountain, Salyersville, Kentucky to Slyvania (Wireman) Miller and Jake Miller.  On May 10, 1949, in Magoffin County, Kentucky, Gerry married Eugene "Gene" Manns.  They shared a lifetime of memories throughout their 68 years of marriage together before he passed away on November 20, 2017.
Gerry was always at her husband's side as a helpful farmers wife and homemaker.  She also worked for 17 years for Kimball Glass in Warsaw, but her favorite job was simply being Mom.  Then Grandma!  She will be remembered for the wonderful pies she loved to bake, she loved to read, and enjoyed her word finds.  Gerry was always up for a road trip and loved to travel.  She especially loved her shopping trips to Shipshewana with her sister-in-law, Irene.  Gerry enjoyed the fellowship of her church family for 30 years at Pentecostal Lighthouse Church in Warsaw, a member of Living Hope Ministries in Warsaw for 17 years and for the past five years she was a member of New Beginnings Church and World Outreach in Warsaw.  She was a loving wife, mother, grandmother, sister and friend to many.  She will be dearly missed.
Gerry leaves behind two daughters, Diana (Dennis) Yoder (Warsaw, Indiana), Janet (Pastor Ronnie) Patrick (Claypool, Indiana) and her son, Ronald Manns (Akron, Indiana).  Also surviving are eight grandchildren, twenty-one great-grandchildren and six great-great-grandchildren, sister, Shelby (Jim) Reed (Winamac, Indiana), brother, Jake Miller, Jr. (Pennsylvania), two sisters-in-law, Della Leckrone (Warsaw, Indiana), Irene Manns (Warsaw, Indiana), and her brother-in-law, Duane Spangle (Claypool, Indiana).  She was preceded in death by her parents, husband, daughter, Patricia Ann Manns, five sisters and three brothers.
Visitation will be held on Tuesday, May 31, 2022 from 4:00 – 7:00 p.m. at Redpath-Fruth Funeral Home, 225 Argonne Road, Warsaw, Indiana.
Gerry's life will be celebrated with a funeral service at 10:00 a.m. on Wednesday, June 1, 2022 at Redpath-Fruth Funeral Home and officiated by Pastor Ronnie Patrick.  Burial will follow with a graveside service at Pleasant Hill Cemetery in North Manchester, Indiana.
Memorial gifts can be made to New Beginnings Church and World Outreach, P.O. Box 913, Warsaw, Indiana  46581 and would be appreciated by the family.
Online condolences may be sent through the funeral home's website at www.redpathfruthfuneralhome.com.