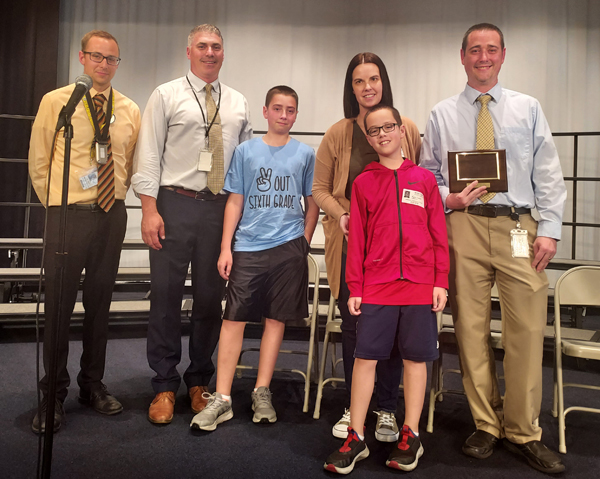 WINONA LAKE – Kyle Carter, chief technology and analytics officer at Warsaw Community Schools, was honored at Jefferson Elementary School's sixth-grade graduation Wednesday for his service to the school.
Carter began his teaching career as a sixth-grade teacher at Jefferson Elementary School in 2005. In 2012, Carter became an instructional math coach. In this role he worked to support teachers throughout the district in grades K-12. Carter returned to Jefferson Elementary as principal in 2014. It was announced by WCS in June 2021 that Carter was selected as the chief technology and analytics officer.
During Wednesday's graduation, current Jefferson Principal Josh Wall said Carter had a significant impact in the sixth-graders' lives as he started as principal when they were kindergarteners. Wall said Carter has made an impact on the sixth-graders in a powerful and profound way.
During the graduation Wednesday, Carter was also the keynote speaker.
During Carter's speech, he told the students middle school was going to be different and they're going to meet different students beyond the ones they knew at Jefferson. He told the students to have courage, including the courage to do the right thing, even if it wasn't popular. They should also be courageous to hold up their hand in class, try new things like sports or clubs and try to make a difference. He told students to remember what they've learned in the past, be courageous and show kindness. Carter said they would always be "his kids," and if they needed anything, they could reach out to him.
After Carter's speech, his family and Dr. David Robertson, WCS assistant superintendent of elementary education, was invited on stage.
Wall presented Carter with a plaque and said, "We recognize Mr. Carter as he's poured so much into you guys. You've seen his love, his compassion, his kindness."
The plaque says: "You make a difference. Thank you for your service, Mr. Carter."
A picture was taken with Carter and the sixth-grade class, which will go with the plaque.
After the ceremony, Carter said he was an emotional mess.
"It is funny to me. Not funny, it's just ironic to me that I was honored today for what I've given the school and students, because to me, I have learned and gained so much from the students I've worked with over the years. They have filled me more than I feel I've ever given them. So for me, it's an honor. But it's always been about them. And I'm proud of them," he said.
Carter said being honored was a surprise. He said Wall reached out and asked if Carter would be willing to speak at graduation. Everything else was a complete surprise.