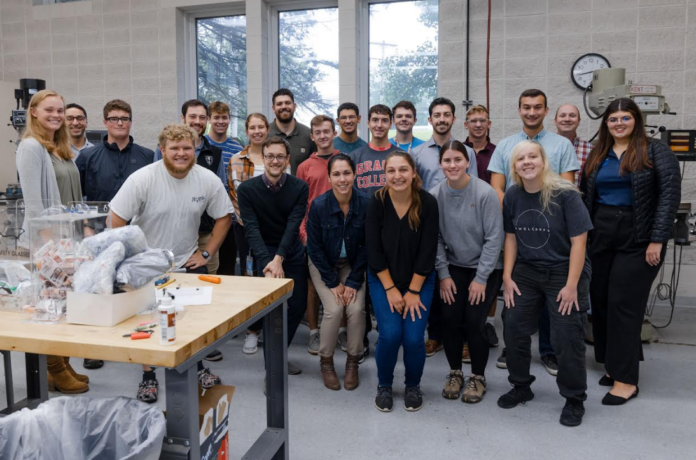 News Release
WINONA LAKE — The Grace College Department of Engineering recently launched its inaugural mentorship program for first-year engineering majors.
The program pairs each student with a local engineering expert to meet with for the first semester of college. These relationships are intended to provide a place for students to ask questions they have about what life is like in the field of engineering as well as an opportunity for the mentors to leverage their knowledge and experience to invest in young talent.
"I joined the mentoring program because I believe it is an invaluable opportunity to increase engagement between professionals and future engineers," said Melinda Coleman, development senior engineer II at Zimmer Biomet. "I was lucky enough to have a mentor when I was an engineering student, and she helped me through some major decisions in school and my career. I still turn to her for advice more than a decade later. I hope this program will foster similar relationships between Grace College students and Zimmer Biomet engineers."
The program is connected to Zimmer Biomet's Young Professional Network. Erin Lawhon, a 2020 graduate of the Grace Engineering Department and Zimmer Biomet employee, sits on the network's community outreach committee. She saw the opportunity to connect her colleagues with students from her alma mater.
"I met with Grace's Center for Career Connections and proposed the idea to them," said Lawhon. "Then I found 12 engineering volunteers from Zimmer Biomet to be mentors, set up the meeting with the students and now here we are."
The program is organized in conjunction with Grace's freshman engineering course, "Introduction to Mechanical Engineering."
This year, the program totals 24 participants.
Dr. Fred Wentorf, chair of the Department of Engineering, is thrilled to see that his vision for a program with strong community connections is coming to life. He hopes to see the number of mentorships grow over the next several years.
"This program is amazing," said Wentorf. "I am very excited about the potential to help our students and increasingly connect our program to the surrounding industry and community.  These mentorships also connect with our goal to provide every student with personalized tools for success.  We care about each and every student's success,  and therefore, we want to equip them with tools that will help them change the world!"
Learn more about the bachelor's degree in engineering at Grace, which recently received a $443,240 grant from Don Wood Foundation at www.grace.edu/major/mechanical-engineering/.