By Dan Spalding
News Now Warsaw
WARSAW — A group of merchants in downtown Warsaw are hoping to shake things up.
The group, known as Go Rogue Warsaw, is a collection of store owners who meet weekly and are working to develop new attractions for the downtown.
More than a dozen businesses have been involved. Among the merchants leading the charge: One Ten Craft Meatery, Glam Boutique, the new art gallery, Atelier, The Lab and the soon-to-reopen Courthouse Coffee, which will see a complete revamping and a new name, B+B Courthouse Market.
"We feel there is a ton of potential — untapped potential," said Michelle Smith Henson, owner of Glam Boutique. "We're very optimistic that this downtown  can grow, our businesses can grow and foot traffic can grow. We just have to do the right thing so we can make it happen."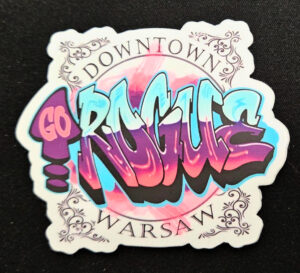 The group began meeting a few weeks ago at Mad Anthony's Lake City Tap House in the downtown.
Already in the works is a future billboard on US 30 to promote the retail area; plans or a green state-designated tourism sign along US 30 and a street map of the downtown for visitors to find stores.
Any downtown business is invited to attend the group's meetings. The approach, though, is simple, said Jason Brown, owner and chef at One Ten Craft Meatery.
"Our rule's very simple. If you want a voice, put money down and we're happy to have you," Brown said. We wanna make change and those who want to make change are goin ro put our money with our mouth is."
A representative of Main Street Warsaw, which represents the downtown in various interests, has been attending the meetings. Group members said they believe both entities can work side-by-side and that Rogue is not in competition with the existing structure.
In many ways, representatives said Rogue is there to compliment other groups' efforts.
The movement comes amid a time when the vacancy rate  among downtown stores is rather low (and better than in many area towns) and several of the downtown storefronts are renovating. Male Fashions, a longtime part of the downtown, is moving from Center Street a block away to Buffalo Street.
Warsaw Mayor Joe Thallemer was asked about the group's role and likes what's happening. He said he's attended a few if the meetings.
"No one can do everything and having a couple groups with very common interest does nothing but increase the likelihood of success,"Thallemer said.
The group meets at noon on Mondays at Mad Anthony's Lake City Tap House at 113 E. Center St.
You can find the group's Facebook page here.