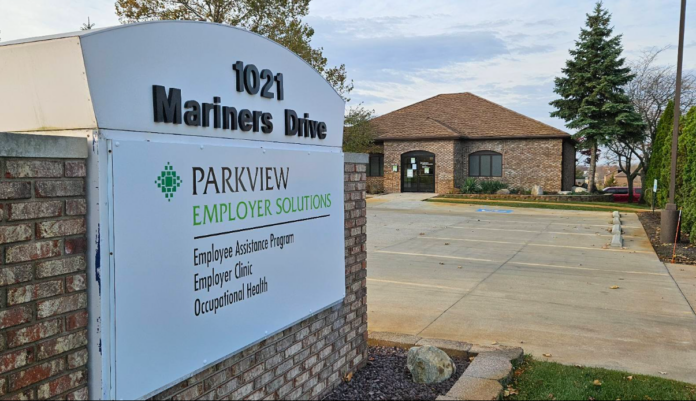 Times-Union
Staff Report
FORT WAYNE – Parkview Employer Solutions will soon open its new Kosciusko County Clinic, bringing together a shared employer clinic, occupational health clinic and Employee Assistance Program (EAP) office under one roof.
Parkview will host a ribbon-cutting with the Kosciusko Chamber of Commerce and open house event from 11 a.m. to 1 p.m. on Thursday at the new office, 1021 Mariners Drive, Warsaw. 
Area employers are welcome to attend to learn more about the services available through Parkview Employer Solutions, according to a news release from Parkview Health.
The new clinic will become a hub for three employer resources, bringing together two offices that had previously operated separately in Warsaw, as well as adding a new service to the community.
Parkview Occupational Health previously had an office at the Parkview Physicians Group office in the Parkview Warsaw facility, while EAP served clients at the nearby YMCA. 
The new Kosciusko County Clinic will relocate those two offices to the new building and become the home of Parkview's second shared employer clinic, which local businesses can utilize for the healthcare needs of their employees.
"This new location brings together three key services from Parkview Employer Solutions, all designed to improve employee health and well-being and, in turn, lower the overall cost of care for area employers," said Dr. Greg Johnson, regional market president, Parkview Health. "As a partner in healthcare, Parkview is committed to serving employers and employees in Kosciusko County with solutions specifically designed to meet their needs."
The new clinic also complements Parkview's other efforts to expand access to high-quality care in the community.
"Parkview's Kosciusko County Clinic is bringing a new, innovative model of care to Warsaw and the surrounding community," said Scott Gabriel, market president, Parkview Health Northwest. "Bringing these offices together will allow Parkview to better serve employers and employees and keep workers healthy and on the job. Along with the expansion of Parkview Warsaw to become the full-service Parkview Kosciusko Hospital, we remain committed to growing our offerings and providing high-quality care to the community."
Parkview's shared employer clinics, the first of which opened in July in Fort Wayne, help to create more convenient access to healthcare, improve employee well-being, and lower the overall cost of care. Parkview's new shared employer clinics allow multiple organizations of all sizes to access healthcare exclusively for their employees at a reduced cost. Employers pay one flat monthly rate for access, which helps to reduce claims on their health plan. The clinic is then free to employees, who incur no copays or out-of-pocket costs for care through the clinic, including a robust list of lab tests and common medications.
Parkview Occupational Health, another division of Parkview Employer Solutions, offers a variety of services specific to employment and workplace health and safety, such as employment physicals, injury treatment and proactive wellness programs. Parkview Occupational Health was recently certified by the National Association of Occupational Health Professionals.
Parkview EAP, the third service to be offered at the Kosciusko County Clinic, provides mental health services for a variety of needs, including crisis intervention, drug or alcohol dependence, work stress, emotional trauma, grief and loss and others. EAP clients can meet with counselors in person or through virtual visits.
In addition to the services housed at the Kosciusko County Clinic, Parkview Employer Solutions offers Workplace Wellness, Proactive Injury Care and Diabetes Care Direct programs for employers throughout the region.
For more information about the new clinic or the services offered in Kosciusko County, contact Parkview Employer Solutions by at 260-373-9017 or email ParkviewEmployerSolutions@parkview.com.