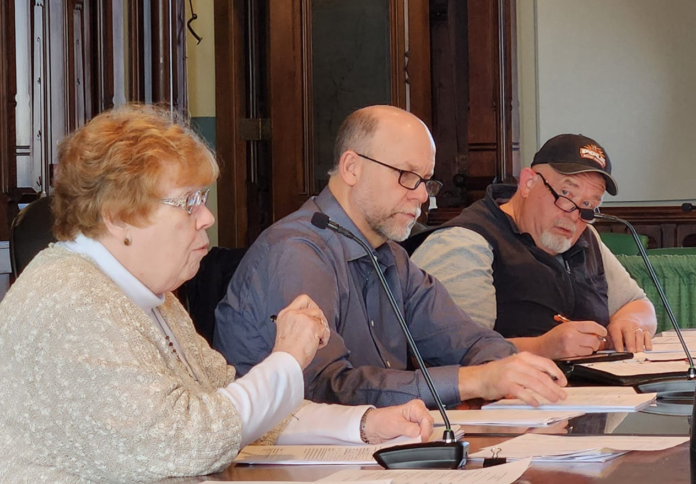 By Dan Spalding
News Now Warsaw
WARSAW — Kosciusko County on Wednesday began looking at how to divvy up the final remaining $5 million in money from the American Rescue Plan Act on Wednesday.
A dozen groups made pitches –- big and small –- to the county ARPA committee.
County Commissioner Cary Groninger said their approach in making deciding how to use the money comes down to long-term investments and choosing between needs versus wants.
Also on the committee are Sue Ann Mitchell and Mike Long.
After nearly two hours of discussion, the committee made recommendations that will go to the county commissioners and county council for a final decision.
Requests came from numerous entities. Fire and police departments sought radios and pagers, work release wanted a metal detector and Animal Welfare League sought money for several needs. 
The biggest request came from the North Webster Community Center, which is seeing increased traffic but has serious roof problems. They were seeking $650,000 and were preliminarily approved for about $250,000.
County officials also want to put side aside a large amount of money to be used for road work on CR 1300N and improvements to the Justice Building.
The following is what was sought and what the committee recommended:
Beaman Home Requested $63,000 for its new facility on South Buffalo Street it acquired a year ago. About $44,000 was recommended.

Combined Community Services requested $202,000 to construct a new garage that would be used in part for storage. The request was tabled.

Etna Green Fire Department requested $119,700 for new pagers. The request was turned down and they will seek a backup source of funding.

Kosciusko County Senior Services requested $119,000 to buy a bus. The request was tabled.

Kosciusko County Work Release requested $5,800 to purchase a metal detector to help keep weapons and contraband out of the facility. The request was recommended.

Milford Fire Department requested $48,000 to purchase portable radios. About $32,000 was recommended.

Animal Welfare League requested $158,000 for insulation in the new feline building, parking lot improvement and other expenses. About $24,000 was recommended.

Warsaw Police requested $50,000 for portable radios. About $11,000 was recommended.

Kosciusko County Sheriff's Office requested $86,000 for new body cams and related equipment for officers. The request was recommended.

North Webster Community Center requested $650,000 for among other things, immediate roof and window repairs. About $252,000 was recommended.

YMCA of Kosciusko County requested $280,000 to develop a new facility. The request was tabled.

CASA of Kosciusko County requested

$24,100

for several items including fingerprinting equipment. About $19,000 was recommended.
Mitchell noted that some groups who previously received ARPA money have not needed all of what they were given and will be asked to return unused portions.
The committee will meet again on May 10.