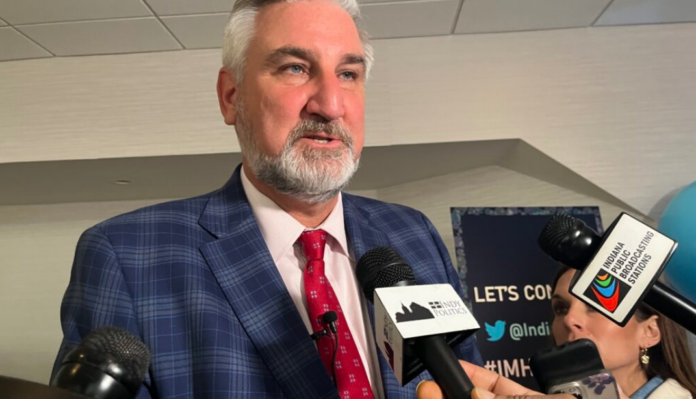 By Whitney Downard
Indiana Capital Chronicle
INDIANAPOLIS — Gov. Eric Holcomb continued to dance around an endorsement of Lt. Gov. Suzanne Crouch Tuesday, saying he wanted to "stick the landing" post-legislative session before focusing on the 2024 gubernatorial primary race.
Holcomb previously told reporters he'd dive into the primary election, and give an endorsement, following the adjournment of the 2023 legislative session.
"It's still May," Holcomb said. "I probably should have … said 'Give me until after session and then let me stick the landing — and then there'll be plenty of time for politics in the months to come.'"
He cannot run for a third successive term under Indiana law. But his successor will have one of the fifth-highest salaries of any governor in the country.
Crouch, U.S. Sen. Mike Braun and Fort Wayne businessman Eric Doden are all running in the Republican primary for governor. All three contenders have deep pockets, promising an expensive primary race.
On the Democrat side, former Superintendent of Education Jennifer McCormick has jumped into the race. Donald Rainwater will also run again for governor as a Libertarian candidate.
When asked, Holcomb insisted that it wasn't "awkward" not to nominate Crouch just yet — saying some of his predecessors didn't nominate him for certain races. Former Gov. Mike Pence did endorse Holcomb as his replacement in 2016 when Holcomb was Pence's lieutenant governor.
"There's something to be said for going out there and making sure folks understand you're your own person — regardless of who it is — that you speak for yourself," Holcomb said. "Folks need to feel liberated to do that.
"I don't want anyone thinking that just because she and I have worked so closely together that she's a clone of me. She's been devoting her adult life to public service and folks need to get to know her as well."
Regardless of Holcomb's stance, several prominent Republicans have given their endorsement for Crouch, including U.S. Rep. Greg Pence, former Secretary of State Connie Lawson and U.S. Rep. Larry Bucshon. Many others have not weighed in.
* * *
The Indiana Capital Chronicle is an independent, nonprofit news organization dedicated to giving Hoosiers a comprehensive look inside state government, policy and elections. The site combines daily coverage with in-depth scrutiny, political awareness and insightful commentary.
You can read the original version of the story here.